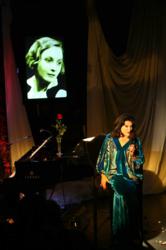 In the grand tradition of Piaf and Dietrich...Irina Maleeva wraps a song around you like a silk sarong leaving audiences spellbound, and yearning for more. – Xaque Gruber, Huffington Post
Los Angeles CA (PRWEB) March 21, 2013
Irina Maleeva has performed around the world with her one-woman musical shows, performing in such places as New York, Tokyo, Rio and Los Angeles. She is now expanding her storied career with the release of this lush new CD. based on her Sold Out Show of the same name, Illusions.
Tracks on Illusions include amazing songs from amazing songwriters:
1. Let's Face The Music And Dance (Irving Berlin)
2. Crimes Of The Heart (Amanda McBroom)
3. Let's Misbehave (Cole Porter)
4. Plus Fort Que Nous (Pierre Barouh)
5. Besame Mucho (Consuelo Velazquez / Francis Blanche)
6. Mon Dieu (Charles Dumont / Michel Vaucaire)
7. Where Or When-You Look Like Someone (Charles DeForest-Lorenz Hart-Richard Rodgers)
8. Games Are Everywhere (Sheilah Rae / Michele Brourman)
9. Kiss Her Now (Jerry Herman)
10. Whatever Lola Wants (Richard Adler / Jerry Ross)
11. Falling In Love Again / Illusions (Frederick Hollander / Sammy Lerner)
12. I Don't Want To Know (Jerry Herman)
AVAILABLE NOW ON ITUNES AND CDBABY
Irina Maleeva was born in Bulgaria to a leading lady of the Bulgarian stage and a war hero father who led the anti-Nazi movement for his country. She first established herself as a child actor in Italy, where she studied acting, earned a degree in set design, became a painter and learned seven languages. At age 15, she was discovered by the great Federico Fellini, and performed in three of his films. Collaborations with Luchino Visconti and Roberto Rossellini soon followed.
Irina played Jessica to Orson Welles' Shylock in a BBC production of "The Merchant Of Venice" and then went on to play starring roles in more than 30 European and American movies. Her co-stars included such icons as James Mason, Valentina Cortese, Terence Stamp, Anthony Franciosa and Charles Grodin. She was awarded as a supporting actress by the Toronto Film Festival for her portrayal of "the demented contessa" in the film "Union City," starring Deborah Harry and Pat Benatar.
Irina has appeared on the small screen too, guest starring or recurring in such TV hits as "Days Of Our Lives," "The Gilmore Girls," "The Bold And The Beautiful," "Pensacola," "Just Shoot Me," "Angel," "Heroes" and "Six Feet Under."