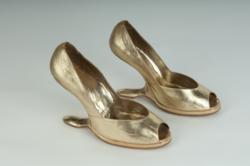 Washington, D.C. (PRWEB) March 21, 2013
The Smithsonian documents the history and culture of U.S. immigration and migration through community stories, objects and experiences. "From Where I Stand," two online education conferences April 10 and May 8, will bring this rich aspect of American history into classrooms everywhere. Hosted by the Smithsonian Center for Education and Museum Studies, the program features Smithsonian historians, curators and educators, who will highlight relevant museum collections, respond to participant questions and present free digital-learning resources.
Curators L. Stephen Velasquez and Nancy Davis of the National Museum of American History will present "A Closer Look at Understanding Immigration/Migration Experiences in the United States," Wednesday, April 10, at 1:00 p.m. EDT. The session will focus on everyday objects that reveal individual and shared experiences.
Latino program director Magdalena Mieri of the National Museum of American History and educator Ashley Naranjo of SCEMS will present, "Immigration/Migration Stories in the Classroom," Wednesday, May 8, at 4:00 p.m. EDT. The educator-focused session will highlight techniques for sparking classroom conversations. Techniques such as conducting life-story interviews, developing observation skills and encouraging critical thinking about families and local history will be featured.
The Smithsonian will also introduce two new digital badge-earning opportunities through its Smithsonian Quests program: the Proud Publisher and the Cultural Storyteller. To earn the Proud Publisher badge, students in grades K-4 create a book that features a person, place and object that represents their heritage. Older students (grades 5-12) can earn the Cultural Storyteller badge by selecting and analyzing an object that represents their identity and heritage.
The 2013 Smithsonian Online Education Conference Series provides an online space for teachers and students to interact with Smithsonian experts and make connections from textbooks to today's world. For more information, visit http://smithsonianeducationconferences.org/.
About Smithsonian Institution
Founded in 1846, the Smithsonian is the world's largest museum and research complex, consisting of 19 museums and galleries, the National Zoological Park and nine research facilities. There are 6,000 Smithsonian employees and 6,500 volunteers. Approximately 30 million people from around the world visited the Smithsonian in 2012. The total number of objects, works of art and specimens at the Smithsonian is estimated at 137 million.
Image information: These shoes, from 1997, were worn by the Afro-Cuban vocalist known as the "Queen of Salsa." As the political landscape changed dramatically in Cuba, many fled the country, including singer Celia Cruz, who found her place in New York City's thriving 1960s Latino music scene and never returned to her country of origin. http://newsdesk.si.edu/photos/celia-cruzs-shoes.