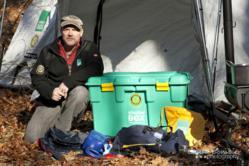 ShelterBox is there to help them through—to help them survive.
Sarasota, Fla. (PRWEB) March 21, 2013
International disaster relief organization, ShelterBox, is proud to welcome Les Stroud, star and producer of Discovery Channel's Survivorman television show, as a celebrity ambassador to help raise awareness of families affected by disaster.
ShelterBox provides humanitarian aid—emergency tented shelter and other supplies, such as stoves, blankets and water filtration systems, among other tools to help families rebuild their lives after losing their homes and possessions following a disaster such as earthquake, volcano, flood, hurricane, cyclone, tsunami or conflict.
The organization is currently providing assistance to families impacted by a cyclone in Madagascar and those displaced by conflict in Myanmar and Syria.
Stroud's involvement with ShelterBox will help to raise awareness to ensure that families affected by disaster receive proper shelter and other emergency supplies during their time of greatest need.
"Around the world, families are thrown into tragic disasters unprepared to simply survive," Stroud said.
"ShelterBox can provide the desperately needed lifesaving supplies to ensure that children and adults alike can make it through what are often horrific ordeals. ShelterBox is there to help them through—to help them survive."
As a survival expert for the Canadian Military Armed Forces, Stroud demonstrates his survival skills in the most remote wilderness locations on the TV hit show Survivorman, taking with him no food, water, shelter, tools or camera crew.
The twelve-time Gemini nominee is celebrated as the only producer in the history of television to produce an internationally broadcasted series entirely written, filmed and hosted alone. Stroud continues to forge new pathways, touring the globe as a celebrated keynote speaker, musician, bestselling author and supporter for dozens of other charities.
For more information on the new partnership, and to see Stroud's promotional video for ShelterBox, visit http://www.shelterboxlesstroud.com.
ABOUT SHELTERBOX
Since 2000, ShelterBox has provided shelter, warmth and dignity following more than 200 disasters in over 85 countries. ShelterBox instantly responds to earthquake, volcano, flood, hurricane, cyclone, tsunami or conflict by delivering boxes of aid. Each iconic green ShelterBox contains a disaster relief tent for an extended family, stove, blankets and water filtration system, among other tools for survival. ShelterBox's American affiliate, ShelterBox USA, is headquartered in Sarasota, Florida. Individual tax-deductible donations to ShelterBox USA can be made at http://www.shelterboxusa.org, 941-907-6036 or via text message by sending SHELTER to 20222 for a one-time $10 donation.
ShelterBox Canada is headquartered in Toronto, Ontario. Donations to ShelterBox Canada can be made at http://www.shelterboxcanada.org, or by calling 1-855-875-4661.
# # #