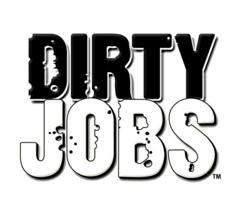 New York, NY (PRWEB) March 21, 2013
My Dirty Jobs, the company that makes cleaning products formulated to handle the dirtiest jobs, is launching a nationwide search for America's top 'Mess Masters.' Send them a photo of the messiest mess your own Mess Master makes and if your photo is selected you could win a full year's professional maid service from Molly Maid, one of the country's top-rated professional home cleaning service companies.
Available at Walmart, Lowe's, and Albertsons Market stores across the country, Dirty Jobs broad portfolio of cleaning products are among the strongest and most advanced household cleaning products available anywhere. They are the ideal cleaner-uppers for everyone's own Mess Master.
Qualifying as the biggest Mess Master requires no special training, just the ability to create the messiest mess. Accepted entries can include kids and/or pets. They just need to make a dirty mess and you provide the photographic proof of their best mess.
The contest will run for eleven weeks from February 21 through May 9, 2013. Grand Prize winner will be announced on or about Mother's Day, May 12, 2013. It's easy and simple to get in on all the fun. Just visit http://www.mydirtyjobs/messmasters to enter your own favorite Mess Master.
Send them your best Mess Master photo and you will be entered and eligible to win one of the following great prizes:
Grand Prize Winner - Molly Maid Cleaning Service for 1 year
First runner Up - $500 Gift Card
Second Runner Up - $250 Gift Card
Eleven Weekly Prize Winners will win a $100 Gift Card
"We developed Dirty Jobs Heavy-Duty Cleaning Products to combat the toughest, dirtiest jobs in America," said Adam Lerner, President and co-founder of My Dirty Jobs. "Our Mess Master contest will spotlight those really dirty mess makers from coast-to-coast and the incredible messes they make."
Dirty Jobs is inspired by the Emmy® nominated Discovery Channel series Dirty Jobs, part of Discovery Communications, the world's number one nonfiction media company, in which host Mike Rowe travels the country showcasing hard working men and women who have some of the country's messiest occupations.
For more information about Dirty Jobs and the Dirty Jobs Mess Master contest, readers are invited to visit http://www.mydirtyjobs.com or http://www.mydirtyjobs/messmasters.
EDITOR'S NOTE: To speak with someone from Dirty Jobs Cleaning Products, please contact Pamela Wadler or Nancy Trent at (212) 966-0024.