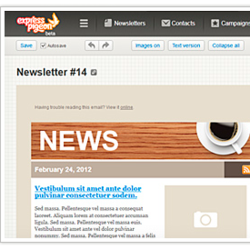 Chicago, Illinois (PRWEB) March 21, 2013
March 11, 2013 – ExpressPigeon has unveiled its easy-to-use email template, which allows businesses and marketers to create templates in a 'what you see is what you get' format. Users can drag and drop elements on the page to customize templates to their specifications.
Developers designed the editor to make it as user-friendly as possible. Not only can users move items, ExpressPigeon also features undo and redo features, which are rare in email template software. Users can also resize columns with the click of a mouse, as well as resize images so they make a huge impact on the viewer.
"ExpressPigeon is breathing some fresh air into the email marketing world by offering advanced yet easy-to-use tools for email creation, sending, and reporting," says founder Igor Polevoy.
As Polevoy explains, ExpressPigeon also offers themes to help make things easier for users. With ExpressPigeon's live templates, users can take a pre-designed theme and customize it to their own preferences. For businesses that are interested in creating newsletter campaigns, ExpressPigeon has tools to aid with those efforts as well.
To get started using ExpressPigeon, users simply upload an email list, adding contacts from a spreadsheet or CSV. Once the list has been updated, a template can be chosen in seconds and the user can immediately start editing and when the email is complete, it can be scheduled and sent with just a few clicks.
One of the biggest benefits to using ExpressPigeon are the advanced reporting features. Once an email has been sent, senders can see which recipients have opened the email and which haven't. If someone unsubscribes or clicks on a link, the report will reveal it, as well. Information is updated in real time, so users won't have to wait to see if emails are getting attention.
With ExpressPigeon's contact management system, users are able to easily manage lists of contacts. Users can search contact lists using an advanced search feature and if contact data needs to be added, information can be automatically merged. Users can navigate to the history of a specific contact, including open, click, unsubscribe and other events. ExpressPigeon cleans up lists automatically to keep up the list hygiene. This can help make contact list cleanup easier.
To make subscribing easier, ExpressPigeon allows a template that can be added to websites to encourage people to subscribe. Using these forms, customers can choose to get emails from a business. With space for a business's logo to be added to the form, it can be set up to match an existing website. ExpressPigeon also provides the option of hosting the form for businesses, or businesses can opt to get the form in HTML format, which can be added to websites or blogs.
Though free packages exist, plans start at only $8.99 for a beginner package, which includes unlimited emails and up to 500 subscribers. For more information about ExpressPigeon, visit https://expresspigeon.com/.