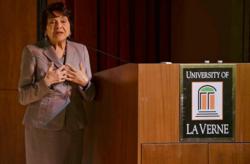 It's people like Dolores Huerta that we have to have in our society because they make change happen.
-Dr. Devorah Lieberman
La Verne, CA (PRWEB) March 22, 2013
Dolores Huerta encouraged students, faculty and staff at the University of La Verne to take a stand for diversity and inclusivity during Diversity Week's community presentation on International Women's Day Friday, March 8.
As an elementary school teacher in the 1960s, Dolores Huerta saw migrant youth in her classroom with bare feet and empty stomachs and she was moved to take action.
She co-founded the United States' largest farm workers' union, United Farm Workers, with Cesar Chavez in 1962. She also helped secure the passage of California's Agricultural Labor Relations Act of 1975. Her dedication to helping fight social injustices through the years has made her one of the most influential civil rights leaders in America today, and at 82, she's still working.
Since 2002, she's been running the Dolores Huerta Foundation, which works to develop community organizers and national leaders. And just last year, she was awarded President Obama's Medal of Freedom.
"It's people like Dolores Huerta that we have to have in our society because they make change happen," University of La Verne President Devorah Lieberman said. "But I don't want you to think she acted upon her feelings in the '60s and then said I'm going to stop. This woman today is as active today in social justice issues as she was in the '60s."
Before speaking, activist and poet Gustavo Ramirez presented a poem for Huerta titled, "When Movements Unite."
"Today, we are here to celebrate Women's Day," Huerta said. "Women are a very important part of the struggle for justice."
Her own struggles as a female activist were not in vain. Lieberman told the audience that many of the rights and opportunities that they enjoy today are because of Huerta and her dedication to equality and inclusivity.
"It's important to have Diversity Week, but shouldn't it be diversity year and shouldn't every day be International Women's day?" Lieberman said.
And though there has been much positive change for women in the United States, Huerta said it is difficult for women to be in higher positions. The United States is still 70th in the world for the number of women representatives in government.
After discussing gender issues, Huerta addressed immigration in the U.S.
Many farmers in Mexico are displaced because of things such as the sale of U.S. corn to Mexico. The cost of the corn is so low that it is not possible for the farmers to compete. Huerta said that because of this they come to the U.S. looking for better opportunities.
She said she believes that creating job opportunities for people and empowering them to do things for themselves is the key to success. It is not about enabling people, she said, but helping them recognize and utilize their own power.
Huerta also believes that citizens need to be educated so that they are aware of what the government is doing and the policies that it creates.
"Injustice is the public face of hate," Huerta said.
At the end of her lecture, Huerta invited the audience to shout in response to her prompting.
"Who's got the power?" Huerta said.
"We got the power," the audience replied.
"What kind of power?" Huerta said.
"People power," the audience replied.