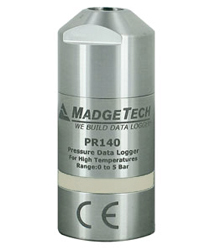 Warner, NH 03278 (PRWEB) March 21, 2013
The addition of the 1/8" NPT pressure port on the PR140 Data Logger allows for compatibility with a large variety of standard fittings and adaptors. This NPT port design features wrench flats to assist in securing the device firmly.
MadgeTech is also offering an optional Luer Lock connector, available as an accessory to the PR140-NPT. The LUER-FITTING-F can easily be screwed into the 1/8" NPT female port on the data logger. This rugged adapter is made of 316 stainless steel construction and can withstand harsh environments, such as steam sterilization cycles.
MadgeTech will continue to offer the PR140 High Temperature Pressure Data Logger in both the NPT port model or the Flush Top design.
For more information on any of MadgeTech's loggers or logging systems, visit http://www.MadgeTech.com or call (603) 456-2011.