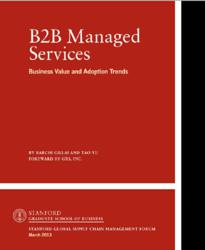 This new research from Stanford provides further proof that the B2B Managed Services model not only offers lower cost but higher business value than traditional approaches to integration.
Gaithersburg, MD (PRWEB) March 21, 2013
GXS, a leading provider of B2B integration services, today announced a new report from Stanford University's Global Supply Chain Management Forum titled, "B2B Managed Services, Business Value and Adoption Trends." Sponsored by GXS, the report analyzes the current state of B2B integration adoption and evaluates its potential growth. Report findings are based on a survey of nearly 100 users in North America, Europe and Asia, representing different industries including manufacturing, retail, financial services and logistics.
The report found that 96 percent of respondents felt managed services has added significant value to their overall B2B integration programs. Respondents cited cost savings as a key benefit, with 74% indicating they received value from shifting up-front capital expenditures on software licenses to monthly operating expenditures for Managed Services. However, cost savings were not the most important benefit. Enhancing the customer experience to accelerate international expansion and improve business process efficiency was cited as one of the top reasons for choosing B2B Managed Services.
"Developments in B2B integration technology have ignited a growing interest in B2B Managed Services. This research aims to gain insight on the latest trends and business value associated with these B2B initiatives," said Barchi Gillai, lead researcher for the study. "While it takes time to realize the benefits of B2B Managed Services, the survey results indicate the market has reached a level of maturity where companies are beginning to see a tremendous return on their investments."
The survey also found that 96% of participants plan to increase the number of customers they trade with electronically, the number of suppliers they trade with electronically, and/or the number of business processes they support. 59% of participants plan to expand their use of B2B e-commerce in all three areas. In fact, only 4% had no plans to increase B2B ecommerce in any of these areas.
"Companies both large and small continue to struggle to get return on investment from their B2B programs. One of the key impediments has been the traditional licensed software model, which rewards the technology vendor regardless of whether the B2B projects are successful or not," said Steve Keifer, vice president of marketing at GXS. "This new research from Stanford provides further proof that the B2B Managed Services model not only offers lower cost but higher business value than traditional approaches to integration."
A full copy of the report is available for download here.
About GXS:
GXS is a leading B2B integration services provider and operates the world's largest integration cloud, GXS Trading Grid®. Our software and services help more than 500,000 businesses, including 22 of the top 25 supply chains, extend their partner networks, automate receiving processes, manage electronic payments, and improve supply chain visibility. GXS Managed Services, our unique approach to improving B2B integration operations, combines GXS Trading Grid® with our process orchestration services and global team to manage a company's multi-enterprise processes. Based in Gaithersburg, Maryland, GXS has direct operations in 20 countries, employing more than 2,800 professionals. To learn more, see http://www.gxs.com, read our blog at http://www.gxsblogs.com and follow us on Twitter at http://twitter.com/gxs. You can also access our public filings with the Securities and Exchange Commission at http://www.sec.gov/edgar.shtml.
FORWARD-LOOKING STATEMENTS
This press release may contain "forward-looking statements." All statements, other than statements of historical facts that address activities, events or developments that the company expects, believes or anticipates will or may occur in the future are forward-looking statements. These forward-looking statements are affected by risks, uncertainties and assumptions, including but not limited to those set forth in the company's public filings with the Securities and Exchange Commission, including its Annual Report on Form 10-K and its Quarterly Reports on Form 10-Q. Accordingly, actual results or outcomes may differ materially from those expressed in the forward-looking statements. You should not place undue reliance on these statements and the company undertakes no obligation to update or revise any forward-looking statements to reflect events or circumstances that may arise.
All products and services mentioned are trademarks of their respective companies.