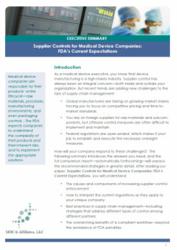 We want to help companies avoid costly mistakes that could result in a warning letter or substantial monetary penalties
Tucson, AZ (PRWEB) March 22, 2013
In a newly-released executive summary, Supplier Controls for Medical Device Companies: FDA's Current Expectations, Arizona consulting firm MBCA, LLC outlines key benefits and strategies behind better supply chain management. The summary precedes a full-length report, which is forthcoming. In both papers, MBCA addresses medical device executives who are currently experiencing an unprecedented regulatory climate, wherein supplier control measures are increasingly complex—both to establish and maintain. The executive summary is available for free download here.
"The FDA is enforcing supplier controls like never before," explains Melita Ball, principal consultant and author of the report. "We want to help companies avoid costly mistakes that could result in a warning letter or substantial monetary penalties. Beyond that, we want to offer a straightforward, holistic approach to supply chain management. These solutions not only satisfy the FDA, but also help to implement a closed-loop supplier management system that is practical, cost-effective, and easy to maintain for the long term."
The MBCA's full report will detail the three major areas of supplier controls and the four basic types of medical device suppliers. Recommended strategies will be framed by several of today's defining realities for medical device companies—including the growing number of outsourced device components and the complexities of offshore oversight. Textual analysis of the industry's standard guideline, Quality System Regulation (21 CFR Part 820), will also be provided, along with a discussion of the regulation's broader expectations.
For more information, or to obtain a free copy of the executive summary, visit the MBCA website.
About MBCA, LLC
MBCA, LLC is a full service, quality system and regulatory compliance consulting firm. MBCA specializes in the medical device and in vitro diagnostics industry, providing assessments, audits, training courses, startup support, and FDA enforcement mitigation services. The MBCA team uses years of real-world experience to promote better products, better quality systems, and lasting client relationships.