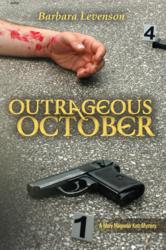 MIAMI, Florida (PRWEB) March 22, 2013
Outrageous October, the latest mystery by longtime Miami resident Barbara Levenson, is now available nationwide.
The third novel in Levenson's critically-acclaimed mystery series featuring plucky Miami lawyer Mary Magruder Katz, Outrageous October is available in both a trade paper edition ($11.99) and an eBook edition.
About Outrageous October: Outrageous October finds Mary Magruder Katz at a crossroads in both her professional and personal life. When she discovers her sexy Latin boyfriend sneaking away to rendezvous with his ex-, Mary promptly packs up her SUV, along with her trusty canine sidekick Sam, and hits the road. Destination: High Pines, Vermont. A change of scenery would do her good—and an offer to stay at a friend's summer home is too tempting to resist.
But Mary soon discovers that her temporary residence was the scene of an unsolved murder just a year before. Never one to leave well enough alone, Mary starts to investigate the cold case—much to someone's dismay.
Following a few chilling circumstances that are almost enough to send her packing, Mary meets Dash, an appropriately dashing local attorney who persuades her to do some legal work—and angles for some overtime with her.
Meanwhile, Mary reconnects with her wealthy client Lillian Yarmouth under horrible circumstances. It seems Lillian's daughter Sherry, a student at Dartmouth, has vanished into thin air and Lillian needs Mary's help to find her missing daughter.
And if that weren't enough, Mary gets a trial-by-fire taste of small-town legal work when a neighbors' spat turns into all-out warfare. At the root of the battle: tree removal. It sounds innocuous enough—until the local "tree Nazi" is murdered.
There's something sinister afoot in this sleepy little town—and amidst the falling leaves and blustery autumn winds of Vermont, Mary Magruder Katz faces an extraordinarily colorful Fall. But if Mary doesn't watch her step, this Fall could turn deadly…
An outrageously charming—and supremely suspenseful—new read from Barbara Levenson, a judge-turned-author hailed as "John Grisham in spiked heels," Outrageous October is a delectable, delightful, to-die-for tale.
Barbara Levenson is a cum laude graduate of the University of Miami Law School, and has resided in Miami, Florida, for the past 35 years. Barbara has served as a prosecutor, and run her own law practice where she focused on criminal defense and civil rights litigation. Barbara was elected to a judgeship in the circuit court of Miami-Dade County where she served as senior judge. Visit Barbara Levenson online at: http://www.barbaralevenson.com.
Outrageous October (CreateSpace, ISBN: 978-1480093669, 306 pages, Category: Mystery) is now available nationwide. For more information, please contact Maryglenn McCombs by phone – (615) 297-9875, or by email – maryglenn(at)maryglenn.com.