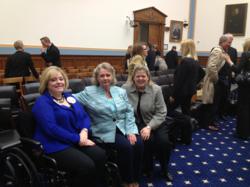 "We are outraged by the attempt to rush this legislation through without hearing from the people most affected."
Washington, DC (PRWEB) March 20, 2013
Asbestos victims had objected to an anti-victim bill up for mark-up today before the Subcommittee on Regulatory Reform, Commercial and Antitrust Law of the House Judiciary Committee. The meeting was set for Wednesday, March 20 at 10 a.m. in Room 2141 Rayburn HOB.
 In a letter previously sent to Committee Chairman Robert Goodlatte, (R-VA), Subcommittee Chairman Spencer Bachus (R-AL) and Ranking Members Rep. John Conyers (D-MI) and Rep. Steve Cohen (D-TN), one asbestos victim and two surviving wives had pleaded with subcommittee members not to rush the bill through in the space of a week without hearing from the victims who will be so affected. Susan Vento, wife of former Rep. Bruce Vento; Genevieve Bosilevac, who has beaten death from mesothelioma for years ; and Judy Van Ness, whose husband just died in August.
 "Two of us lost our husbands to asbestos-caused mesothelioma, and one of us currently suffers from mesothelioma and fights every day for her life.  Last week, we traveled to Washington and wanted to tell our elected representatives why the so-called "FACT Act" is more about corporate infighting than helping victims, but no victims were asked to testify.
 "Asbestos companies claim this bill is needed because the asbestos victims who get pennies on the dollar value of their injuries are somehow defrauding the  companies that knew they were killing people with asbestos exposure and yet did nothing.
 "We are outraged by the attempt to ram this legislation through without hearing from the people most affected.   You claim that this bill is about victims. Yet, despite holding several hearings since the FACT Act was first introduced last Congress, you have not heard from a single victim of asbestos exposure. We felt like the "invisible people" in that hearing room last week. Everybody talked about us but it was starkly clear that our views---the views of everyday people---are irrelevant and unnecessary in this process.
 "What we heard is that there are clerical errors. What we heard is that you are going to penalize victims by requiring mountains of paperwork. And what we heard is that your bill will add to what is already a living nightmare for people that are desperately sick.
 "We ask you to let us speak. We ask that you hold a hearing in which family members who have been affected by the ravages of asbestos disease are given an opportunity to testify.  We ask that before the subcommittee votes on legislation that would place any additional burdens on the innocent victims of asbestos poisoning, you hear from the people you would be hurting," the victims stated.
Contact: Joy Howell, Asbestos Cancer Victims Rights Campaign, c- 202-302-5932