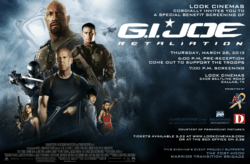 Dallas, Texas (PRWEB) March 20, 2013
LOOK Cinemas, a newly formed Dallas-based theatre company rolls out the red carpet for North Texas' military heroes with a special screening on March 28 of G.I. Joe: Retaliation, from Paramount Pictures, Metro-Goldwyn-Mayer Studios (MGM) and Skydance Productions. The screening will coincide with LOOK Cinemas' first night open to the public. All proceeds from the event will benefit the Fort Hood Warrior Transition Brigade.
"We are honored to open our theatre with an event that recognizes the important contributions made by these soldiers," LOOK Cinemas CEO, Tom Stephenson said. "The purpose of tonight is to salute the real heroes, while enjoying a movie featuring the best action stars in Hollywood."
Following the red carpet arrival of local military heroes at 6:00 p.m., the screening of G.I. Joe: Retaliation begins at 7:00 p.m. LOOK Cinemas guests have the option to view the movie in six of the eleven brand new, state-of-the-art theatres. Three of the dining auditoriums and three Loft auditoriums will be designated for the event. Tickets for the event and the entire opening weekend are $10.
"This is an opportunity to join with friends and family and demonstrate our appreciation to the men and women who have sacrificed so much for the rest of us in the best new theater in the country," LOOK Cinemas Executive Chairman, Brian Mason said. "Honoring these heroes is what this is all about."
The presenting sponsor for the evening is American Airlines. Supporting sponsors include Milestone Management and The Milestone Group. D Magazine is the event's media sponsor and Klipsch, Hill & Wilkinson General Contractors, Chicago Title, and the Law Offices of Brett B. Stalcup, L.P. serve as supporting sponsors.
G.I. Joe: Retaliation is presented courtesy of Paramount Pictures, Metro-Goldwyn-Mayer Studios and Skydance Productions.
About Fort Hood Warrior Transition Brigade
The Fort Hood Warrior Transition Brigade provides command and control, primary care and case management for soldiers who have suffered injury or illness while serving as a member of the U.S. Army. During the transition period, conditions are established for healing and timely return to the force or transition to continue serving the nation as a veteran in their community.
About G.I. Joe: Retaliation
A follow-up to the 2009 release "G.I. JOE: THE RISE OF COBRA," which grossed more than $300 million worldwide, Paramount Pictures, Metro-Goldwyn-Mayer Studios (MGM) and Skydance Productions, in association with Hasbro, present "G.I. JOE: RETALIATION."
In this sequel, the G.I. Joes are not only fighting their mortal enemy Cobra, they are forced to contend with threats from within the government that jeopardize their very existence. The film stars D.J. Cotrona, Byung-hun Lee, Adrianne Palicki, Ray Park, Jonathan Pryce, RZA, Ray Stevenson, Channing Tatum, with Bruce Willis and Dwayne Johnson. Directed by Jon M. Chu.