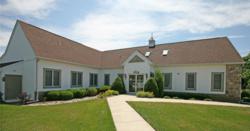 Bucks County, PA (PRWEB) March 20, 2013
Edward A. Marcus, DDS now utilizes the only FDA cleared laser gum surgery for gum disease treatment. The Laser Assisted New Attachment Procedure uses an extremely specialized laser, the PerioLase MVP-7 that selectively removes diseased or infected gum tissue and bacteria, minimizing post-operative discomfort. The healthy tissue, bone and teeth are not negatively impacted by the laser.
Issues with gum disease are exhibited by millions of adults in America. However, most of those affected do not seek treatment. For some, symptoms are slow to appear, but for others, trepidation about the actual method of treatment can cause patients avoid going to the dentist. Some of the symptoms include sensitive gums, gums that bleed easily when being brushed or when eating, receding gums, teeth that move and reduce the effectiveness of the bite, and so forth. However, these are not the only problems connected to gum disease. This disease has been linked to health complications such as respiratory illness, heart issues, stroke and other serious problems.
The LANAP laser procedure is not highly invasive like traditional gum surgery, so discomfort and pain are rarely an issue. Additionally, most patients can go back to regular activity levels the same day of the treatment. Additional information and details about both gum disease and the LANAP laser gum surgery can be accessed at http://www.mercerbucksperiodontist.com.
Floral Vale Periodontics & Implants, P.C., is a periodontal practice offering patients personalized dental care for the Bucks County area in Pennsylvania. Dr. Marcus received his undergraduate and dental education at Temple University where he graduated ranking first in his class. His post-doctoral training in Periodontics and Fixed Prosthodontics was completed at Temple University School of Dentistry. Dr. Marcus is one of only a handful of dentists in the United States that holds American Dental Association accredited specialty certification in both Periodontics and Prosthodontics. Dr. Marcus has many years of experience in dentistry, and is part of one percent of dental professionals providing the most recent FDA cleared laser procedure for gum disease and periodontal treatment. To learn more about Dr. Edward A. Marcus and his dental services visit his website at http://www.mercerbucksperiodontist.com and call (215) 600-4962.