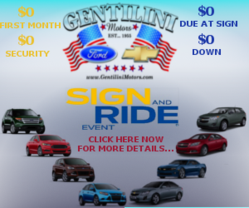 That's no cash due at signing, no first month's payment, and no security deposit
Toms River, NJ (PRWEB) March 21, 2013
Gentilini Motors, a South Jersey Ford and Chevy dealership, is partaking in the fun with a 'sign and drive' lease event. Buyers can sign and drive off the lot with select Ford or Chevy vehicles without putting money down. That's no cash due at signing, no first month's payment, and no security deposit!
Gentilini Motors aims to bring in the spring by offering their 'sign and drive' leasing on many popular Ford and Chevy models including the Chevy Cruze, Chevy Malibu, Ford Focus, Ford Fusion, and more. Combined with their notorious commitment to superior customer service and their other exemplary certified pre-owned Fords and Chevys, they're one of the area's favorite South Jersey Ford and Chevy dealers.
Spring is also the season for truck lovers, so visit their website or listen on the radio to hear more about what Gentilini Motors is doing to make Truck Month special for truck buyers in the South Jersey Area. For example, they're promoting Chevy's complimentary two-year maintenance program on any 2013 Silverado 1500. Truck lovers can also get deals on Silverado 1500s or Ford F-150s with their choice of 0% financing or up to $6,000 off.
Gentilini Motors has been family owned and operated in Cape May County for 57 years. They have been awarded Ford's Presidents Award for Superior Customer Service for over15 consecutive years and continue their commitment to making customers happy. They've continued to spread this approach to their recently acquired Chevy store, as well with Chevy's Mark of Excellence award.