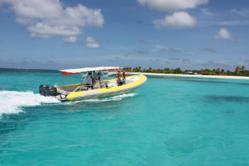 We have the most skilled and fun loving captains and crew who will make your excursion unforgettable.
Philipsburg, St. Maarten (PRWEB) March 22, 2013
Sailing in St. Maarten comes easily to the new manager, Adam Reeve. He has been working in the day sail / power rafting / boat tour industry for over 8 years. He began in St. Thomas where his family owns and operates another tour operation company called Cruise Ship Excursions.
The new management team has taken over the operation Out Island Charters, re-branding it "TourSXM.com" which currently runs 3 tours in St. Maarten: The Golden Eagle Catamaran, Power Rafting and the Explorer Party Boat.
Tour SXM offers full day and half-day sails, island tours, lagoon tours, private charters, fishing charters, catamaran tours, and much more.
"We have the most skilled and fun loving captains and crew who will make your excursion unforgettable" said Reeve.
For every tour, guests are welcomed aboard with a rum punch welcome drink and then will sail the Caribbean waters to reach the most desired snorkeling destinations and best kept secret beaches surround the island. Tour SXM has captured an example of their day sail excursion sailing around St. Maarten on this video about sailing in St. Maarten.
You can book your tickets at: http://www.TourSXM.com. Lucky tour goers may spot dolphins swimming alongside the boats or catch a glimpse of exotic fish, stingrays, whales and other deep-sea creatures. Out Island Charters' office located at Bobby's Marina in Philipsburg.
The Golden Eagle Catamaran, the most popular tour, is a 1/2 Day or Full sail and snorkel around St. Maarten / St. Martin. This custom designed million-dollar vessel is built to US Coast Guard and S.O.L.A.S. worldwide safety standards.
The Double Decker Explorer Party Boat tour begins on a charter bus and is run by local tour guides and will teach tour goers of the history, architecture and sights of the island. This tour includes a shopping trip in Marigot, the capital of the French side of the island. Tour goers will then board the party boat at the marina for a lagoon cruise.
Power Rafting is the third and newest tour offered by Out Island Charters. This tour is offered as a full day or half day, it fits up to 25 people and includes a snorkeling stop, beach stop and a lunch stop for the full day.
With a strong presence among the cruise lines, Tour SXM is now offering on island bookings. Tour SXM is located at Bobby's Marina in Philipsburg .
For more information visit them at http://www.toursxm.com or call 1-721-543-0068