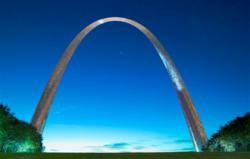 (PRWEB) March 22, 2013
The grass is turning green, the songbirds have returned and popular visitor attractions are gearing up to welcome families for a new season of fun. This flurry of activity is a sure sign that spring has sprung along the banks of the Mississippi River in St. Louis.
Offering more free attractions than anyplace else in the Midwest, St. Louis is an affordable and fun getaway. To learn more about the region's openings and events, visit http://www.explorestlouis.com or call the St. Louis Convention & Visitors Commission at 1-800-916-0040.
St. Louis' top animal attractions re-open in the spring after a winter break. Grant's Farm debuts for the season on April 14. Operated by Anheuser-Busch, the Busch brewing family's estate presents animal shows, a petting area and a trackless train ride through a wildlife preserve filled with exotic animals from around the globe.
At Purina Farms, visitors can have St. Louis-style springtime fun with adorable baby barnyard critters or enjoy some time watching talented dogs and cuddly cats. Cow-milking demonstrations, a hayloft play area and wagon rides open for spring at the visitor center. Admission is free.
It's spring training time at the always-open Saint Louis Zoo. This time of year, the Zoo's sea lions stage a show filled with hurdles, flips, balancing and flipper walks to the delight of visitors. Shows are held at 1 and 3 p.m. and public feedings are fun at 11:15 a.m., 1:45 p.m. and 3:30 p.m.
The spring fun begins at Six Flags St. Louis with weekend openings until May 18 when the theme park begins its full weekly schedule. This year, park guests will be greeted by Boomerang, a 125-foot-tall steel rollercoaster designed to rocket riders through a thrilling combination of twisting, turning surprises.
Riverboat rides herald the start of spring as the Gateway Arch Riverboats begin their season of cruises on the mighty Mississippi River. Hop aboard the Tom Sawyer or the Becky Thatcher paddlewheelers for a magical history tour through the Port of St. Louis.
Nothing says springtime like the great outdoors, and St. Louis has plenty of open spaces that celebrate the beauty of nature. From the charming and quirky Citygarden, where contemporary sculpture blooms in the heart of downtown, to the internationally acclaimed Missouri Botanical Garden and its 79 acres of lovely landscapes, St. Louis embraces the outside. The community's back yard is the 1,371-acre Forest Park where beautiful fountains and scenic lakes share space with top attractions including the Zoo, Art Museum, Science Center and History Museum.
Space may be the final frontier, but this spring St. Louis celebrates the 50th anniversary of an institution that brings the universe close to home. For the past half century the James S. McDonnell Planetarium at the St. Louis Science Center has been teaching about the stars, planets and space exploration. Visit the interactive space station, see a magnificent star field projected overhead and see historic space vehicles with St. Louis roots.
And finally, it wouldn't officially be spring in St. Louis without Cardinals baseball. The 11-time World Series champion Redbirds take the field at Busch Stadium for a season that is sure to thrill their fans. Tours of Busch Stadium are available and on game days, ticketholders can enjoy a variety of family-friendly activities inside the ballpark.
###
MEDIA NOTE: For photography of St. Louis, send an e-mail to pr(at)explorestlouis(dot)com.
For up-to-date information about St. Louis, your readers can call the St. Louis Convention & Visitors Commission at 1-800-916-0040 or check out our web site at http://www.explorestlouis.com.