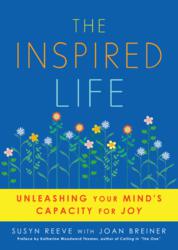 (PRWEB) March 21, 2013
Join the On-Purpose Blog Talk radio show with Susyn Reeve and Rikk Hansen as they open doors to discover and live a lifework that's alive with purpose. Susyn and Rikk share compelling conversations with midlife professionals, entrepreneurs, experts and authors successfully doing work that expresses their purpose and passion.
This Thursday, March 21, Noon Central will be the first of 2 episodes introducing the show and hosts.
For more details, visit: http://OnPurposeShow.com
Susyn Reeve, is the creator of The Self Esteem ToolKit, best-selling author of The Inspired Life and award winning author of Choose Peace & Happiness.
She has 35 years experience as a Corporate Consultant, Coach and InterFaith Minister. Her clients have included: American Express, New York University, Exxon, Continental Airlines, The Metropolitan Museum and Young Presidents Organization. She has been a delegate to the UN Commission on the Status of Women.
Rikk Hansen is one of the nation's leading experts in guiding midlife professionals and entrepreneurs to discover a lifework that's really their calling. During his 26 years in the career and leadership development field he has guided thousands of women and men through major lifework transitions – to rekindle purpose and passion for their next lifework chapter.
Currently, as founder at Brilliant NEXT, he has pioneered a system called "New Fire Discover" that guides midlife women and men to find certainty of purpose and exciting direction for their next fulfilling work - in a short period of time and despite any obstacles, fears, or doubt.
Imagine being connected to an infinite source of loving energy and feeling whole, happy and content. Imagine experiencing life as a source of limitless creative possibility. Susyn Reeve contends that everyone has a wellspring of limitless creativity and drive within to achieve that sense of fulfillment. In The Inspired Life: Unleashing your Mind's Capacity for Joy, Reeve, with Joan Breiner, offers proven tools to access inspiration, no matter how deeply buried.