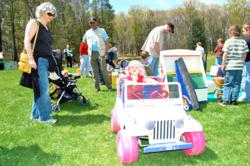 I hope the idea for a 'Give & Take Day' spreads across our country!
Kunkletown, PA (PRWEB) March 22, 2013
How does one responsibly recycle, keep items out of local landfills, while also improving the community? The answer inspired Rita Lacey, CEO of Close the Loop, to organize a community event around Earth Day.
"I hope the idea for a 'Give & Take Day' spreads across our country. We kept hearing how great an idea this was and people loved it." said Rita.
The benefits of a Give and Take Day are inherent in the goals of Close the Loop, and inherent in what Rita wants to see in her local community as well. The event reuses items instead of merely throwing them away, saves on the local landfill space and natural resources, and helps the items to stay within the community.
There are monetary benefits as well; a major one being that all items are free. Anything that isn't snatched up at the event will be sent to non-profits and local churches, including the Salvation Army. Up to this point, an estimated nine-thousand pounds have been saved from going to waste in the landfills -- from these events alone.
"The value, of a person isn't measured by how many things they have; it comes from how well they take care of their neighbor, their community, and the Earth," added Rita.
With a dedication to helping preserve our environment, and a desire to help others who are also committed to this goal, Close the Loop was established in October, 2000 after much research into who has been doing what in the recycled "green" world. They believe in helping environmentally conscious small businesses have a presence on the web, at no cost to them. Products are made in USA from state-of-the-art recycling of plastic scrap and waste wood fiber are used as a non-wood alternative building material for the fencing and plastic lumber market including: recycled plastic fencing, posts, rails, vineyard poles, composite lumber. They also offer glass mulch, rubber mulch, rubber landscape timbers, rubber pavers and more.
For more information, please visit http://www.closetheloop.com