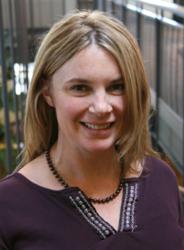 Christy Thorns broke the glass ceiling in the traditionally male field of green coffee buyers.
Warrenville, IL (PRWEB) March 21, 2013
Guest speakers for CoffeeCON 2013 have been announced. CoffeeCON is a consumer coffee conference being held in Warrenville, IL on May 4, 2013. This all day coffee university not only teaches every brewing method available in hands-on brewing labs, but also features some of the top names in the coffee industry.
Kevin Sinnott, author of definitive consumer manual The Art and Craft of Coffee, and host and creator of CoffeeCON, is proud to announce the addition of Christy Thorns to this year's line-up of speakers. Christy broke the glass ceiling in the traditionally male field of green coffee buyers. She has some of the best taste buds in the business. She will be speaking on sustainability and environmental issues affecting coffee and what we can do to ensure we have great coffee in the future.
Christy is Director of Sourcing and Quality Control for Colorado based Allegro Coffee Company, a subsidiary of Whole Foods Markets. She began her coffee career at Allegro in 1994 as a roaster and expanded her coffee background as a trainer, traffic manager, barista, and buyer. Christy oversees green coffee and tea sourcing, producer relationships and quality control. She travels frequently to coffee producing countries to source and develop partnerships with growers in 22 countries. She is a past Coffee Corp volunteer, a longstanding member and former council member of the Roaster's Guild, and is currently on the board of World Coffee Research.
Returning this year to CoffeeCON is George Howell. George is one of the fathers of Specialty Coffee. He established the famous Coffee Connection in Cambridge, MA, in 1974. In 2004 he created the George Howell Coffee Company and its Terroir Coffee brand, which specializes in single estate coffees and pioneers in raising quality coffee standards to much higher levels. In 2007, Howell was awarded the Specialty Coffee Association of Europe's highest honor, the Better Coffee World Award. He was recently profiled in Boston Magazine.
George will present an intensive coffee tasting during this lab. You will experience an
understanding of what actually goes into creating quality coffee, from farm to cup. This presentation is meant to empower you by informing your palate as well as your mind. This lab will involve active participation by allowing consumers to travel to various coffee stations. After leaving George's seminar, your ability to understand and taste coffee with grow to a new level of expertise.
Oren Bloostein is also returning to give his unique perspective to spread the word about fine coffee. Oren Bloostein is the owner, CEO, and roastmaster of Oren's Daily Roast which is NYC's premier coffee roaster since 1986. Oren helped lay the foundation for what many in the specialty coffee industry do today. Oren continues to uphold the same strict standards, but with the benefit of over two decades of learning and experience.
Oren is an early member of the Specialty Coffee Association of America and a member of their Training Committee, the Roaster's Guild, a speaker at conventions of both the SCAA and the National Coffee Association. Years of cupping experience seeking the finest coffees afforded Oren the opportunity to become a judge on an international panel of cuppers finding the best coffees at the Cup of Excellence in Central and South America, and the Golden Cup in Ethiopia. Oren was the winner of the first ever "Roaster's Choice Award" by the Roaster's Guild of America. He was featured in NJ Monthly.
Our final presenter is Chicago's own Jim Schulman. He was previously in the controls business, is a PhD candidate at the University of Chicago in sociology. He shares his passion for good coffee and expertise in home espresso and roasting on the "coffee-internet." He is a founding SCAA C-member, and serves on its liaison committee. He is respected in the industry and known for his doctoral-level dissertations on water.
Jim will again be demonstrating his home espresso techniques at CoffeeCON 2013. After experiencing his lecture and techniques, consumers will be able to bring their home espresso to a new level of enjoyment.
Jim along with Bob Yellin run coffeecuppers.com, which services the home roasting community with expert independent reviews. This is important as CoffeeCON 2013 will feature live home roasting demonstrations this year. Consumers will leave with a free sample bag of freshly roasted coffee.
Tickets for CoffeeCON 2013 are on sale now and limited in number. Admission is only $10 and gets you entry to all the classes including access to the speakers. Prices increase to $15 after April 5th and will be $20 at the door if there are any tickets remaining. Coffee Swag bags to the first 1,000 in the door include coffee samples. Live music and free tasting from some of the best coffee roasters in the country are included with admission