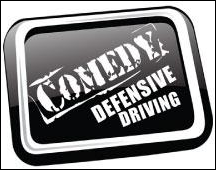 "We care deeply about driving safety which is why we designed a defensive driving course online and in the classroom that was both informative and entertaining," said a company representative
(PRWEB) March 20, 2013
Comedy Defensive Driving, one of Texas' leading and most convenient defensive driving schools, has established a public survey concerning recently filed legislation to ban texting while driving in the state of Texas. In 2011, Texas Governor Rick Perry vetoed a similar ban explaining that although texting while driving is "reckless and irresponsible," the bill represented a "government effort to micromanage the behavior of adults." Now, many Texas legislators have already drafted texting bans for the upcoming legislative session, stirring debate about the proper role of government in and out of defensive driving schools.
Texas is one of eleven states to not have a statewide ban on texting and the first state to have their governor veto such a bill. Advocates of the ban argue that government has a critical role in preserving public safety while opponents believe the government should not force adults to act responsibly. As a nationally distinguished provider of defensive driving class, Comedy Defensive Driving believes this debate needs to happen among the drivers, not just the legislators. "We care deeply about driving safety which is why we designed a defensive driving course online and in the classroom that was both informative and entertaining," said a company representative. "Still, we understand the philosophical arguments on both sides and want to gauge what ordinary drivers believe."
To participate in this survey go to: https://www.facebook.com/comedydefensivedrivingschool/app_127709503932081
About Comedy Defensive Driving
Comedy Defensive Driving offers classroom and online defensive driving courses throughout Texas and is certified by the Texas Education Agency. These courses have the practical benefit of helping to dismiss a ticket or reduce automobile insurance prices while also providing people with a solid education on driving safety.
Founded in 1989, Comedy Defensive Driving aimed to provide cost-effective and practical defensive driving courses that were both as painless and funny as possible. Today, with over 2.5 million students served, Comedy Defensive Driving has distinguished itself nationally and continues to build upon that initial vision. The classes, offered both in the classroom and online, allow students to have tickets dismissed and license points reduced. For additional information please visit, http://www.comedydefensivedriving.com/.