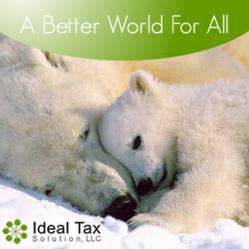 We go to great lengths to protect any and all information entrusted to us during a tax resolution process.
Costa Mesa, CA (PRWEB) March 21, 2013
Ideal Tax Solution, LLC is closely following IRS efforts to combat identity theft tax fraud, which continues to grow at an alarming rate across the country and South Florida in particular. Prior to the 15th of March, fewer than twenty-five IRS criminal investigators were assigned to the region, according to James Robnett, local agent in charge of IRS criminal investigations.
In a story reported by the Tampa Tribune on Friday, March 15, the IRS is bolstered its identity theft tax fraud unit in a sweeping move to curtail the explosive number of tax fraud cases occuring in the region. Ideal Tax Solution has learned the newly sworn IRS deputies are part of a comprehensive approach targeting criminals who steal hundreds of millions of dollars of federal taxpayer dollars locally, and billions nationwide.
"You'll see a lot more people going to prison, a lot more people under indictment," said Tampa Police Capt. Mike Baumaister, one of the newly appointed IRS investigators. He went on to add, "the fraud hasn't gone away, but it does seem to have slowed."
Police Chief Jane Castor said the deputizing is a "significant step, and one of many that have been made lately to fight tax refund fraud. I'm optimistic, where I wasn't when we first started investigating these crimes about three years ago."
Professional tax liability companies like Ideal Tax Solution work diligently to protect their clients from falling victim to identity theft tax fraud criminals. Experienced tax professionals understand the potential for tax refund abuse and are careful to avoid any situations which could jeopardize a taxpayer's confidentiality.
"One of our primary goals is to never compromise a client's personal information when they are seeking tax help for any IRS issue," says Thomas Rodriguez, a senior tax analyst at Ideal Tax Solution. "We go to great lengths to protect any and all information entrusted to us during a tax resolution process."
Ideal Tax Solution closely monitors IRS and law enforcement initiatives, which seek to reduce the amount of identity theft tax fraud cases. The following agencies provided officers included as part of the swearing in ceremony" The Florida Department of Law Enforcement, the police departments of Brooksville, Largo, Clearwater, and Tampa, as well as deputies from Polk, Manatee, Hillsborough and Hernando County sheriffs' offices.
For U.S. taxpayers interested in finding out more about Ideal Tax Solution and their full range of in-depth and personalized tax preparation services, or for any tax help related issue, visit them online at http://www.idealtaxsolution.com. You can also reach them by phone by dialing 888.393.5154. Good tax tips and additional information can be found on their Facebook page and by following them on Twitter.
About Ideal Tax Solution, LLC – Located in Costa Mesa, California, the company provides a full range of tax preparation and resolution services as well as reassurance to taxpayers nationwide. With more than 55 years of combined experience providing American taxpayers with federal and state income tax solutions, Ideal Tax Solution offers an experienced staff which includes Enrolled Agents, CPAs and Senior Tax Consultants who stand at the ready to help with any tax issues.