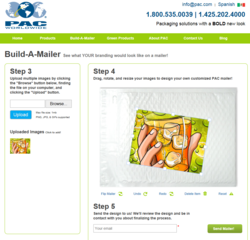 Redmond, WA (PRWEB) March 21, 2013
If a company ever wondered what their company branding might look like on a mailer, or just wanted to change up their current look, The Build-a-Mailer is a fun tool to do exactly that:

Add as many images/logos as desired.
Design the front and back of multiple mailers.
Choose from poly bubble mailers, kraft bubble mailers, flat poly mailers, and rigid paperboard mailers.
"We are very excited about the Build-a-mailer tool. We wanted to give visitors of http://www.pac.com the chance to customize and brand their own mailer. A fully-branded mailer is an excellent marketing tool, will be seen by many during its travels through the mail stream, and gives the persons receiving your product a lasting impression of your company." - Erin Smith, Marketing Manager.
About PAC Worldwide Corporation
PAC Worldwide, an industry leader and manufacturer of protective flexible packaging, has built their business up since 1975 based on outstanding service and quality products. This international company specializes in custom branded and stock mailers (bubble, flat poly, paperboard), flexible pouches, industrial and retail bubble, security bags, folding cartons and automated bags, and many other types of specialty packaging. They also offer a full line of fulfillment services as well as automated packaging systems for high speed applications.