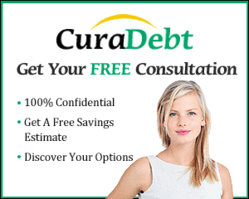 CuraDebt's focus on transparency and customer satisfaction, which is what I think sets us apart from many other debt settlement companies, have enabled us to earn the trust of our customers.
Hollywood, FL (PRWEB) March 26, 2013
The independent consumer advocacy website TopConsumerReviews.com has recently named CuraDebt Financial Solutions the top debt relief company in the United States for the year 2013.
"I was very pleased to see that Top Consumer Reviews picked CuraDebt for the top debt relief organization in the country yet again," remarked Daniel T., Counseling Manager at CuraDebt. "It has been a source of pride for us here at CuraDebt to be rated number one and be top ranked for another year. It shows that we are doing the right thing and that we are keeping our clients happy."
CuraDebt was selected from a field of hundreds of companies offering debt relief services to U.S. consumers that the Better Business Bureau-accredited review website tested. Representatives from TopConsumerReviews.com reportedly spent hours calling and canvassing various companies and testing their systems and responses according to preset criterias on solutions offered, costs, and dependability.
"In the end, we concluded that CuraDebt is an excellent choice for consumer debt relief needs," explained Brian Dolezal, of TopConsumerReviews.com, LLC. "CuraDebt offers professional and customer-friendly solutions to help people eliminate their outstanding debt."
Mr. Dolezal mentioned the company's strong customer service, frequent and clear communications to its clients, and situation-specific solutions and options it offers to clients as among the top reasons why CuraDebt ranked so high in their reviews.
Elsewhere on the web, CuraDebt appears to also enjoy high ratings by consumers frequenting other review websites. As of press time, CuraDebt has 370 five-star ratings by consumers at the prestigious advocacy website Consumer Lobby.
"There have been complaints and allegations of scams and fraud against certain debt relief companies in the past," noted Daniel T. "Fortunately, CuraDebt's focus on transparency and customer satisfaction, which is what I think sets us apart from many other debt settlement companies, have enabled us to earn the trust of our customers in all our years of service to U.S. consumers."
Ultimately, CuraDebt's willingness to work with their clients to resolve complaints and misunderstandings expeditiously to the satisfaction of customers may be the single most important factor that sets this company apart from its competitors, as far as TopConsumerReviews.com is concerned. According to the award-giving website, their criteria and ranking for the selection process were determined by a number of factors including company history, programs, value, customer service, and other key indicators in debt relief customer satisfaction.
"CuraDebt," explained Daniel T, "will continue pursuing our 12-year winning service formula for success with consumers and businesses throughout the country. For 2013 our focus will continue to be on integrity, honest service, and going above and beyond to find the best solution for each individual client."
National Debt Relief was also awarded the top spot in the same search. CareOne Debt Relief Services, American Debt Enders, Ready For Zero, Savvy Money, Franklin Debt Relief, Debt Consolidation Care, Debt Consolidation America, Fast Track Debt Relief, and other companies were also reviewed and graded by TopConsumerReviews.com during their search.
About TopConsumerReviews.com
Recognizing that making the right debt relief decision can be a frustrating and overwhelming process for those new to the idea, TopConsumerReviews.com provides independent reviews of hundreds of debt relief organizations and products each year, selecting the best companies in the business and helping consumers make better-informed decisions.
About CuraDebt
Established in 2000, CuraDebt Systems LLC. (http://www.curadebt.com/) was founded by a diverse group of financial industry professionals for the purpose of helping individuals and businesses in debt situations stay afloat. Today, CuraDebt is one of the most experienced and trusted names in the debt relief industry providing free debt consultations, debt consolidation, debt settlement, and other services to hundreds of thousands of clients throughout the United States.