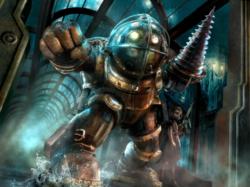 The burden of morality which Bioshock forces the player to shoulder makes it a game worth experiencing.
Los Angeles, CA (PRWEB) March 21, 2013
Bioshock currently sits atop Ranker's "Most Compelling Video Game Storylines" list with a comfortable lead over closest competitor, Half-Life. What's interesting is that both games have been out for over 5 years. (Half-Life will be celebrating it's 15th anniversary this year.) As of March 2013, the crowd-sourced list has been voted on by over 1000 people at consumer opinions website Ranker.com, and includes other popular video game franchises like Mass Effect, Fallout, and Final Fantasy.
The rest of the Top 10 Video Game Storylines are as follows:
1) Bioshock
2) Half-Life
3) Mass Effect 2
4) Mass Effect
5) Half-Life 2
6) Fallout 3
7) Portal
8) Star Wars: Knights of the Old Republic
9) Heavy Rain
10) The Legend of Zelda: Ocarina of Time
When asked why Bioshock would be number one on the list after all this time Dan Casey, Associate Editor at Nerdist.com, had this to say: "What sets Bioshock's narrative apart from the pack isn't just its memorable setting or those terrifying moments when the lights go out and all you can hear is the skittering of Splicers [the villains in the game]; it's the burden of morality which it forces the player to shoulder, and for that alone, it is a game worth experiencing."
See the full list of Compelling Video Game Storylines, as well as 1000s of other Video Games lists at Ranker.com.
Ranker.com is the premier crowd-sourced platform for consumer rankings. Consumers visit Ranker.com more than seven million times a month to view, rank and vote on broad, opinion-based questions across a wide range of topics including food, sports, travel, entertainment, cars and many others. The Ranker.com results are pure, unbiased and based on semantic algorithms that assign values based on mean numbers and ranker behavior. For more information, visit Ranker.com.