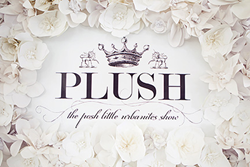 PLUSH adds the incredible dimension of entertainment, media coverage and A-list attendees that both buyers and consumers expect from a show of this caliber.
Los Angeles, CA (PRWEB) March 21, 2013
Jina Park, CEO and Founder of PLUSH is thrilled to announce additional sponsors Maclaren and MAM for the 2013 PLUSH show. Tulip Juvenile also confirmed as a first time participant and exhibitor at the luxury baby and toddler trade and consumer show, June 7th – 9th, 2013 at the Hyatt Regency Century Plaza, Los Angeles, CA.
Platinum sponsor Maclaren, the premiere lifestyle brand for parenting will be partnering with PLUSH for the first time.
"Maclaren and PLUSH are excited to come together for this dedicated event which hosts luxury, posh and eco-conscious retailers alike. PLUSH adds the incredible dimension of entertainment, media coverage and A-list attendees that both buyers and consumers expect from a show of this caliber," said Shanin Molinaro, Global Vice President, Marketing of Maclaren. "The company which we will share among, retailers, parents and media who are continually setting and sharing the next big trend, PLUSH aligns very well with our current marketing strategy."
Silver sponsor MAM said, "MAM is extremely excited for the numerous sales and marketing opportunities the 3-day B2B and B2C PLUSH Show has to offer. We look forward to connecting with local LA parents, retailers and media," Amanda Passarella, Marketing Coordinator.
Tulip Juvenile is participating as an exhibitor and this is their first time working with PLUSH.
"I am very excited about being a part of the PLUSH show this year, so I may be able to introduce our very unique and modern high quality, healthy Tulip Line of collections, which are exactly what the PLUSH show wants to offer all their visitors. We strive to be the best baby and toddler furniture producers with the newest, most innovative, eco-friendly, long lasting and healthiest choice available," said Antonio De Bonis, Owner and CEO of Tulip Juvenile. "Our customers deserve the best and we are the only truly healthy nursery furniture manufacturer that can offer a 'complete' healthy surrounding for babies and toddlers. From cribs, furniture, mattresses and even the paint that is used on the nursery walls which is all Greenguard certified and backed by our great quality customer service. Looking forward to seeing you all at the PLUSH show."
About Maclaren
Maclaren, a renowned, global luxury lifestyle children's brand and creator of the world's first umbrella-fold baby buggy, continues to empower parents with safe, stylish and innovative products imbued in British heritage since its first iconic design in 1965.
Maclaren is focused on providing products that are above global industry standards while combining modern flexibility with versatile mobility. Known for their durability and high-quality construction, Maclaren Buggies are backed by world-class engineering and the industry's first Sovereign Lifetime Warranty TM.
Available in more than 50 countries, Maclaren continues to innovate by providing families with premium, stylish merchandise in various categories including transport products, accessories, soft goods, and organic bath and body care from their beginning…line for mother and baby. Please visit http://www.shopmaclarenbaby.com to learn more, and direct all inquiries to PR(at)maclarenbaby(dot)com.
About MAM
MAM knows that being a parent is not always easy. That is why they make products that are smart and simple to use. For over 30 years MAM has been obsessed with making innovative pacifiers, bottles, cups, teethers and toothbrushes, all to parents with solutions and babies with an optimal start in life.
About Tulip Juvenile
Tulip Juvenile is a Canadian based, family run business that recognizes the value of providing more than just a beautifully designed nursery.
Tulip Juvenile believes that it is important to offer a healthy, safe, durable and long lasting high quality professionally crafted nursery set. Their collections are eco-friendly, made of solid wood with the best hardware, durable anti-pinch slow closing glides along with the highest quality stains and paints with a durable finish that ensures all their customers a nursery set that will grow along with their child and last for years well into their young adulthood.
Tulip Juvenile strives to constantly raise the bar by providing exemplary quality furniture as well as the world's only orthopedic all natural memory foam crib mattress by Essentia, which enables them to reassure all parents that they are making the best choice for their baby.
Their commitment to excellence and caring customer service allows them to gain their customer's agreement with friendly, helpful support before, during and after the nursery furniture is delivered.
About PLUSH
PLUSH is a baby and toddler trade show dedicated to all the posh and eco-conscious retailers and parents who are continually setting the next big trend. Unlike other juvenile shows in the industry, PLUSH sets itself apart by being one step ahead, and selecting vendors that are worth the time and consideration. Jina Park uses endless research on what today's modern parents are seeking and finds the best, most innovative, eco-friendly, and luxurious products on the market, and places them all in one location for retailers, consumers, and media. PLUSH adds the incredible dimension of entertainment and mainstream media coverage and A-list celebrity marketing opportunities to a juveniles industry show. PLUSH 2012 had The Honest Company's Jessica Alba as their title sponsor, and previous celebrity hosts from 2011-2012 included Catt Sadler, Jason Kennedy, and John Salley.
The upcoming PLUSH 2013 show has now expanded to B2B with an upcoming 3-day trade show June 7th – 9th, 2013 at the Hyatt Regency Century Plaza, located at 2025 Avenue of the Stars, Los Angeles, CA 90067. Registration for PLUSH 2013 is now open, but 10x10 booths are now sold out. For more information: plushshow.com.