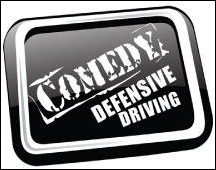 "I am very excited that Comedy Defensive Driving, AmpThink and Education Location have shown such support in my abilities," said CDDS racer Richard Schiller
Dallas, TX (PRWEB) March 20, 2013
CDDS Racing is a premier motorcycle racing team that competes in the CMRA motorcycle racing series. CMRA (Central Motorcycle Roadracing Association) is one of the largest and most prestigious professional motorcycle road racing series in the US.
Comedy Defensive Driving, the premiere Texas online defensive driving course, along with the continuing education website startup Education Location and AmpThink, a Dallas TX based company that provides wireless solutions for medium and large-size business have all signed on to sponsor the team for the 2013 season.
CDDS Racing immediately signed up and coming racer Richard Schiller for the season. Richard is an exciting and formidable up and coming racer; we are ecstatic about what the coming season brings in the way of results.
Schiller stated: "I am very excited that Comedy Defensive Driving, AmpThink and Education Location have shown such support in my abilities, together with Stadium Yamaha and North Texas Superbikes providing me with top-of-the-line equipment it has given the CDDS Racing Team and I great confidence for the coming season."
In a joint statement, Comedy Defensive Driving, AmpThink and Education Location wrote: "We are excited to have the opportunity to have signed Richard Schiller for the 2013 season. Richard is moving along at a phenomenal rate in the biking racing world. For someone who is in only his second season and already at the top of his class is astonishing, especially in a series with this much talent. It not only says a lot about his talents as a rider but his work ethic to get to the top is truly outstanding."
Comedy Defensive Driving, founded in 1989, has graduated over 2.5 million people to help them obtain a certificate for traffic ticket dismissal.
Getting a ticket can now be fun! No more having to read boring text-based online courses because No Reading Is Required for this online adventure, as it contains a fast-paced, 100% video with quirky characters and zany traffic situations that are sure to keep you laughing. Written and performed by top comedic talent from around the country. The best feature is that people can stop and start the program at anytime, anywhere and pick right back up where they left off, making the Online Traffic Course the most convenient and fun way to receive their completion certificate
Comedy Defensive Driving offers an educational, fast-paced Online Defensive Driving Course that can be taken in the comfort of your own home. This course is approved for all courts in the States of Texas and Florida for traffic ticket dismissal and insurance reduction. The Texas Education Agency-Driver Training Division states, this online course… "is by far the highest quality course offered."
Our Classrooms courses are just as fun because they too are taught by professional standup comedians. Check out http://www.comedydefensivedriving.com to sign up for the Online Course today!
Not a speed racer? Insurance Reduction certificates are also available online and in just a few short, fun-filled hours, you too can save on car insurance. Contact your insurance company regarding discounts; it could save you as much as 10% a year.