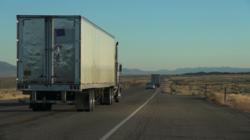 I'm calling on trucking companies & manufacturers to implement these safety features in order to reduce the number of needless car-vs-truck accidents.
Dallas, TX (PRWEB) March 25, 2013
On March 25th, 2013, Dallas injury attorney Michael Grossman issued a 'call to arms' to the commercial trucking industry, urging the use of dash cameras and lane-departure warning devices in all trucks. Mr. Grossman's hope is that one day it will be mandatory that all trucks employ these devices.
In his official call to arms announcement, Mr. Grossman discusses how on-board video cameras could be beneficial to both the trucking industry and personal injury attorneys, two sides typically at odds. Actual video footage of accidents that occur with the front of the truck would be difficult to dispute on liability, which could have a significant impact on legal expenses like litigation and the increasing fees of transportation experts. Concurrently, frivolous claims would in theory decrease, as good evidence would be present to dispute a claim. Both parties would know up front what they are dealing with, possibly increasing the chances of an out-of-court settlement resolution rather than trial.
The aim of a lane departure system, then, is to warn truckers when their rig begins to drift either across a road's median or into another vehicle's driving lane. This is accomplished a number of different ways, depending on the system employed. Some lane departure systems send vibrations to either the steering wheel or driver's seat when a rig begins to stray, while others sound some type of audible and visual warning. The endgame for any of the mentioned systems is simple, to warn truckers of a potentially catastrophic pending event.
It's important to note this was not just a call to arms for those operating long-haul 18-wheelers. Manufacturers are indirectly vested into this arrangement as well. Think about it. Safer vehicles equal fewer accidents. Fewer accidents equal less injury claims. Less injury claims equal less litigation. And less litigation equals happier, loyal customers with the funding to update their existing fleet. The hope then, is these minor changes will act as a catalyst within the trucking community.
For more information about trucking safety, please consult http://www.injuryrelief.com/18-wheeler-accidents/.
Grossman Law Offices, P.C. is a personal injury law firm with its principal offices in Dallas, Texas. Attorney Michael Grossman can be reached at 1-855-326-0000 (toll-free) or at the office at 12240 Inwood Rd #500, Dallas, Texas 75244.
# # #