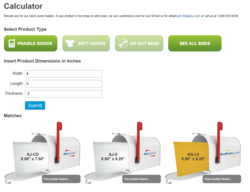 Remdond, WA (PRWEB) March 27, 2013
A company trying to figure out what size and style mailer their product will fit and ship best in might be interested in trying out PAC Worldwide's new handy online calculator. Users just select the type of product they are shipping (Fragile, Soft Good, or Do Not Bend), and then enter in the dimensions of the product they want to ship. The calculator will then match their product up with the perfect mailer options!
"This calculator tool is a very cool addition to http://www.pac.com. We wanted to give visitors of our site an easy way to find the perfect-fit mailer to protect their product during transit." - Erin Smith, Marketing Manager.
About PAC Worldwide Corporation
PAC Worldwide, an industry leader and manufacturer of protective flexible packaging, has built their business up since 1975 based on outstanding service and quality products. This international company specializes in custom branded and stock mailers (bubble, flat poly, paperboard), flexible pouches, industrial and retail bubble, security bags, folding cartons and automated bags, and many other types of specialty packaging. They also offer a full line of fulfillment services as well as automated packaging systems for high speed applications.