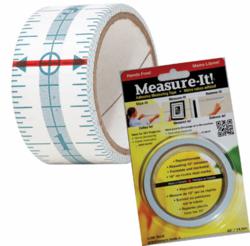 The measuring tape that sticks!
Toronto, ON (PRWEB) March 26, 2013
"The measuring tape that sticks" in a new metric format will allow Measure-It! to become even more useful to Do-It-Yourself'ers as they tackle their home improvement and home decorating projects.
"We started fielding inquiries from hobbyists and retailers in Canada, as well as distributors in parts of Europe, Australia and Japan about when we plan to launch a metric version of our adhesive measuring tape product. We're pretty excited that we can now begin serving those markets", said Rob Botten, President of Bronto Marketing Group Inc, the marketing arm of Measure-It! tape worldwide. He went on to say, "It's a logical line extension for us given how much of the world is metric measurement based. We really hope to be working with new retailers and distribution partners as strong as the ones we have on board now!"
Bronto Marketing Group currently works with Dynamic Paint Products for their sales efforts in Canada as well as with Retail Complete and Advantage Sales and Marketing for sales in the U.S. Measure-It! is also a regular warehouse item at True Value, a chain of over 4000 hardware retailers. Measure-It is currently available in 30 States and 8 Provinces in Canada.
Applied to the wall, floor or almost any other surface, Measure-It! acts like a third hand for DIY'ers when tackling their home renovation and home decorating projects. Measure-It! tape is very simple to use and can be helpful for many jobs including:

Hanging blinds or pictures
Painting
Room Layout
Drilling/cutting
Fabric measurement
Arts and crafts
Measure-It! can be used for almost any job where measurement is required. With no liner to remove, the tape can be put directly on almost any surface. The tape is low tack, which allows it to be repositioned several times and won't leave a mark when peeled off. Measure-It! can be marked with a pen, pencil or marker, torn off where needed, and the product is recyclable. Measure-It! appeals strongly to women who like to tackle DIY decorating projects.
For Measure-It! U.S Hardware sales inquiries, contact Kathy Houston at Advantage Sales and Marketing at 770 639-4659. For mass merchandiser inquiries, contact Randy Beard at Retail Complete 479 366 0275. For Canadian sales inquiries, contact John Burke at Dynamic Paint Products Inc: 905 812-9319 x325. Contact Bronto Marketing Group at 1 855 349-8273 or visit http://www.measureittape.com.