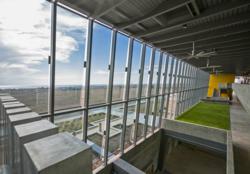 To be recognized amongst all our civil engineering peers is a great honor, but for LPA, receiving the ASCE award really shows that we are truly an integrated design firm that can work well together as a team.
Newport Beach, CA (PRWEB) March 27, 2013
Not only does Coastline Community College and its supporting Foundation appreciate its new Newport Beach campus—they bestowed a coveted "Visionary of the Year" award upon LPA, Inc. in 2011—but the Orange County Engineering Council (OCEC) and local American Society of Civil Engineers (ASCE) chapter have now recognized the project for engineering design excellence as well.
In fact, ASCE has deemed the Center the Sustainable Project of the Year in Orange County, and OCEC is honoring LPA with an Engineering Project Achievement Award.
Designed to perform at 33 percent below California's strict Title 24 energy standards, the LEED Gold certified, three-story 66,800-square-foot interdisciplinary Center features storm water management, natural ventilation, green roofs, living walls, daylighting and beautiful ocean views.
While ASCE and OCEC were impressed with all of the building's sustainable features, the storm water system stood out in particular.
"Most of the soils in southern California are very difficult to infiltrate since it is clayey soils," explains Kathereen Shinkai, Associate and Director of Civil Engineering at LPA. "However, for the Newport Beach Learning Center we were able to design a system that captures, infiltrates and treats storm water runoff. In fact, 100 percent of the storm water will be captured by the roof and vegetated roof, directed to bioswales and stored underground until it percolates into the native soils beneath the parking area."
In addition to making the storm water management system work, LPA was also tasked with figuring out how to set up the Newport Beach campus, previously spread out on a 10-acre area, onto just 3.4 acres. The answer was to go vertical by offsetting the classroom blocks and creating a landscaped roof to function as the campus quad. In addition, a naturally ventilated central atrium, which runs along the interior classroom spaces, serves as the campus' main social space.
"The building shape is a result of responding to a tight site," says Steve Tiner, Associate and Architect at LPA. "We actually shifted the first floor outward toward the ocean and shifted the upper floors to create more social space, which is obviously very important to college students because part of the social interaction is an extension of the classroom learning."
Complementing the atrium's natural ventilation, a single-duct system pulls in 100 percent outdoor air and highly-efficient fans move the naturally ocean-cooled air throughout the building, while the concrete structure's thermal mass helps keep the Center cool.
As the civil engineering group's first awards since LPA began offering engineering services four years ago, Shinkai acknowledges this as a major achievement.
"To be recognized amongst all our civil engineering peers is a great honor, but for LPA, receiving the ASCE award really shows that we are truly an integrated design firm that can work well together as a team," she says. "LPA is a one-stop shop in which we are a trusted advisor for our clients."
To help enable the well-coordinated effort for this project, LPA incorporated all the architectural and engineering design in-house. Building Information Modeling (BIM) was leveraged from the schematic design phase through construction.
"Coordinating the complex mechanical, plumbing, electrical, low voltage and fire protection building systems through a cast-in-place three-story, multi-building concrete structure was significantly simplified for the design team as well as the construction trades by the implementation of integrated project delivery and BIM," explains Tiner. "The resultant is a remarkable infrastructure that is easily accessed and maintainable for the life of the building."
In particular, Revit Architecture, Revit Structure, Revit MEP and AutoCAD Civil 3D were employed to help place and coordinate the utilities in tight, concealed areas, while Navisworks was used for clash detection.
Summing it all up, Loretta Adrian, President, Coastline Community College, relates, "It's very vibrant, it's very new and it's very exciting. I think that creates, both internally and externally for the students, a sense of excitement for learning, and for the faculty."
Coastline Community College
Newport Beach Campus
1515 Monrovia Avenue
Newport Beach, CA 92663
(714) 241-6213
About Coastline Community College
Coastline Community College has an international reputation as one of the nation's most innovative institutions. Founded in 1976, Coastline promotes academic excellence and student success for today's global students through accessible, flexible, innovative education that leads to the attainment of associate degrees, transfers, certificates, basic skills readiness for college, and career and technical education. Classes are held at mini-campuses located in Garden Grove, Newport Beach, and Westminster, as well as via the college's renowned Distance Learning program. For more information on Coastline Community College, please visit Coastline.edu.
About LPA Inc.
Founded in 1965, LPA has nearly 200 employees with offices in Irvine, Roseville, and San Diego, Calif. The firm provides services in architecture, sustainability, planning, interior design, landscape architecture, engineering, and graphics. There is no "Sustainability Director," at LPA. Instead, more than 80% of the professionals are LEED accredited, including the Human Resources Director, CFO, and several other support staff. With extensive experience in public and private architecture, LPA designs a diversity of facilities that span from K-12 schools, colleges and universities, to corporate and civic establishments. More than 500 major design awards attest to LPA's commitment to design excellence. For more information, visit LPAinc.com.