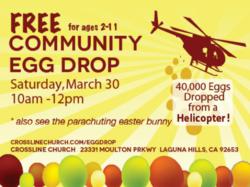 The best way to kickoff off Easter weekend with your family!
Laguna Hills, CA. (PRWEB) March 26, 2013
Everyone is invited to the Community Helicopter Egg Drop at Crossline Church on Saturday, March 30th, 2013, it is a no cost Easter Egg Drop catered to families with kids 2-11 years old. Last year's event drew crowds of 3,000 people and this year the Easter Bunny will be parachuting in to join us.
The Egg Drop will take place on the Crossline campus field in Laguna Hills, located at 23331 Moulton Parkway. Registration begins at 10:00 a.m. and the actual helicopter drop of 40,000 candy/toy filled Easter eggs will happen at 11:00 a.m. Please arrive early to ensure you do not miss this event. Pre-register at http://www.crosslinechurch.com/eggdrop
At Crossline Community Church we love God, love people and have a blast. Our first services were in February of 2005 and since that time Crossline has experienced tremendous growth. Crossline has a reputation for passionate, contemporary music; relevant Bible-based teaching; inspiring weekly services and loving relationships. Campus is freeway-close in Laguna Hills with worship services at 8:30, 9:00 and 11:00 a.m. each Sunday as well as midweek. Crossline continues to grow and besides Easter Services at its Laguna Hills campus at 6:30, 8:00, 9:30, and 11:00am. Crossline Ladera Ranch will be launching on Easter Sunday at Oso Grande Elementary at 11:00 a.m.
For more information about the Community Egg Drop at Crossline, go to http://www.crosslinechurch.com/eggdrop or call (949) 916-0250.