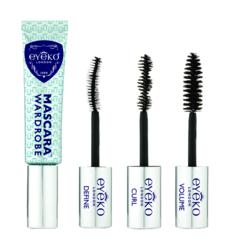 "I constantly reach for Eyeko Mascara to create a better-than false lash look or use in conjunction with a few individual lashes as the blacker than black colour really blends in well."

Kay Montano
(PRWEB) March 26, 2013
Eyeko Mascara Wardrobe: One Mascara, Three Brushes for Every Lash Look
As seen on Jennifer Lawrence, Salma Hayek, Alexa Chung, and Lana Del Rey.
The perfect mascara wardrobe – featuring a choice of defining, curling and volumising brushes teamed with 3-in-1 conditioning formula to give complete control over every lash look.
-Define lashes to extend and separate for a long lash look.
-Curl outer lashes for a flirty lash look.
-Add volume by teasing out top lashes for a dramatic lash look.
With a thick blackest black formula, one coat is enough to create a definitive lash look whether it's for length, curl or all the drama of false lashes without the fuss. It's falsies in a tube!
-Conditioning Pro-Vitamin B, Keratin & Shea Butter
-Carbon Black Finish
-Long-lasting Wear and Hold
-No Flaking, Smudging or Running
-Paraben-free Formula
-Wash brushes after each use and before storing in the individual containers provided.
It's easy to spot who's wearing Eyeko Black Magic
Mascara as it gives the blackest, black stand-out lashes.
Jennifer Lawrence loves lashes and top make-up artist Kay Montano created a lush lash look for her BAFTA look with a subtle smoky eye. Kay regularly reaches for Eyeko Black Magic Mascara for her red-carpet clients as we've seen before with Salma Hayek at the British Fashion Awards. Meanwhile on the other side of the pond, make-up artist Dusty Starks used Eyeko Skinny, Curvy and Fat Brush Mascara to full effect on her VIP's at the Grammy and Oscar party circuit including Brit songstress Lianne La Havas and top model Gigi Hadid.
The latest innovation from Eyeko, Eyeko Mascara Wardrobe, one mascara, three brushes, hits all Sephora US stores this month and will launch in the UK later this month.