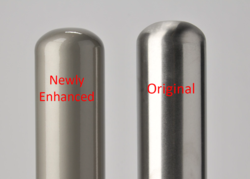 we sought out a higher grade of stainless steel and a protective coating to provide the level of durability that our customers expect
(PRWEB) March 21, 2013
Reliance Foundry Co. Ltd., North America's premier supplier of bollards, bike racks and wheels, announced enhancements to its line of Asset Protection Bollards today that will increase their service-life and broaden their use. Since 2011, Reliance Foundry has supplied low-impact, Asset Protection Bollards that are designed to protect retail assets such as refrigeration units, warehouse racks, ATM's and retail shelving. Created from non-coated stainless steel, the first models of their Asset Protection Bollards provided a level of protection that was optimal for use in indoor, vandal-free environments. Today's announced upgrades showcased changes to the composition and finishing of Asset Protection Bollards that will heighten their durability and aesthetic appeal while increasing the number of applications in which they can be used.
"Vandalism is a significant threat at many sites, and asset protection bollards are also often installed at sites that are more wet than typical, indoor retail environments," said Reliance Foundry's Product Manager, Len Cranmore, "so we sought out a higher grade of stainless steel and a protective coating to provide the level of durability that our customers expect, even in these exceptional environments."
The newly enhanced Asset Protection Bollard boasts a more waxed-looking finish than its predecessor.
Beginning in April of 2013, all of Reliance Foundry's Asset Protection Bollards will be created from high-quality 304 stainless steel and treated with a specialized, anti-graffiti coating. 304 stainless steel is commonly used to create industrial, architectural, and transportation parts that are used in damp environments because of the high level of corrosion and oxidation resistance it provides. The heighten level of resiliency that this grade of stainless steel adds will allow the new Asset Protection Bollards to be used at sites where exposure to moisture may be more prevalent, possibly even in mild, outdoor applications. To further increase the lifespan of these bollards and to protect them from vandals, all new asset protection bollards will also be finished with a powerful, anti-graffiti coating. The coating is a permanent protection system that helps to prevent scratches and makes the asset protection bollards immune to virtually all types of graffiti. The coating allows spray paint to be removed with a chemical cleaner and felt pen markings to be simply wiped away. It is also non-porous which further increases the new Asset Protection Bollards' water resistance.
"We're confident that the upgrades we've made to our Asset Protection Bollards will spell out an increase in potential use," says Cranmore; "the new material composition and anti-graffiti finish will allow them to stand up where other systems may fail."
Reliance Foundry's Asset Protection Bollards are available in two standard safety sizes and made from stainless steel that is fully recyclable. They can be installed on concrete surfaces in a matter of minutes with lag bolts. Asset protection bollards require very little in terms of ongoing maintenance and offer a great return on investment as their cost is often recouped by one prevented accident. For more information or to shop for asset protection bollards, please visit Reliance Foundry's bollard website.