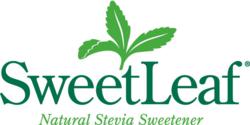 SugarLeaf was recently named one of only three finalists for the prestigious Nutracon NutrAwards for Best New Finished Product.
Gilbert, AZ (PRWEB) March 21, 2013
Attendees at Expo West, the world's largest natural, organic and healthy products trade show, had a chance to find out for themselves what sets SweetLeaf Stevia® Sweetener and its innovative SugarLeaf™ product apart from all other natural sweeteners. SugarLeaf was recently named one of only three finalists for the prestigious Nutracon NutrAwards for Best New Finished Product. Finalists in this category were selected based on product viability, emergence of product category, creative product concept, distinctive health application, unique packaging and matchless marketing. SugarLeaf, which is made by bonding SweetLeaf Stevia to cane sugar, also was singled out by Progressive Grocer as a 2012 Editors' Pick.
Because many people love the taste and mouth-feel of sugar but do not want the calories, SweetLeaf introduced SugarLeaf into the market. This cutting-edge product is not just a blend of two different sweeteners; the stevia glycosides are bound directly to the cane sugar granules, resulting in a deliciously sweet, sugar-tasting product that has two-thirds fewer calories than regular sugar; you use only one-third of a cup of SugarLeaf when a recipe calls for a full cup of sugar.
Unlike Splenda and Equal, which are chemical products created in a laboratory, SugarLeaf is pure cane sugar and natural stevia glycosides. SweetLeaf®'s stevia is extracted from the stevia plant using only cool, purified water. SugarLeaf is a truly natural sweetener with a superb taste. SweetLeaf is the only stevia winning international taste awards.
Wisdom Natural Brands™, the maker of SugarLeaf, SweetLeaf, and SweetLeaf Liquid Stevia Sweet Drops™, is in the process of publishing the newest stevia cookbook. It contains more than 100 recipes developed by chefs and nutritionists from throughout the United States. They share their recipes for using SweetLeaf stevia products, including SugarLeaf, for creating delicious breakfasts, lunches, dinners and low-calorie desserts. Also included are recipes for making delicious drinks with the 17 Sweet Drops™ flavors.
SugarLeaf is ideal for baking breads, muffins, pies, cakes and frostings. It is perfect for making low-calorie candies and fudge, ice cream, sherbet and deliciously sweet beverages.
For more information about SweetLeaf or SugarLeaf, visit http://www.sweetleaf.com.
About Wisdom Natural Brands®
Gilbert, Arizona-based Wisdom Natural Brands® is the parent company of two highly respected consumer brands: SweetLeaf Stevia® Sweetener and Wisdom of the Ancients® herbal teas. SweetLeaf® is the only all-natural stevia sweetener with zero calories, zero carbohydrates and zero glycemic index. The sweetener was recognized as the 2012 award winner for best-tasting stevia product by the International Society of Antioxidants in Nutrition and Health. SweetLeaf is sold in boxes containing 35 or 70 packets, as well as in SweetLeaf Stevia Plus® Shaker Bottles for easy home use and SweetLeaf SteviaTabs™ Dissolvable Tablets for on-the-go use. SugarLeaf™, also by Wisdom, bonds SweetLeaf with cane sugar for a low-calorie sugar alternative perfect for baking and cooking. SweetLeaf® Liquid Stevia drops add flavor without calories or carbohydrates to water or favorite foods and beverages. For more information about SweetLeaf products, recipes and more, visit http://www.sweetleaf.com.
Wisdom of the Ancients herbal teas, from energizing Yerba Maté Royale® to calming Rooibos, are available loose leaf or in bags and come in a variety of refreshing flavors. Select varieties are also available with a touch of calorie-free stevia sweetener.
SweetLeaf and Wisdom of the Ancients products can be purchased online at http://www.buywisdom.com or at grocery and health food stores throughout the U.S. and Canada.