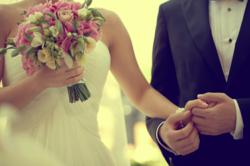 Newport Beach, CA (PRWEB) March 21, 2013
Times have definitely changed. Current widespread internet accessibility allows people to get ordained on the web to officiate weddings, so much so that even a celebrity like Ian McKellen is doing it for friend Patrick Stewart's upcoming wedding.
X-Men actor Ian McKellen recently announced that he will be officiating co-star Patrick Stewart's wedding to jazz singer Sunny Ozell. According to a Time article, Stewart and Ozell's wedding is slated to take place in Massachusetts, a state that allows people to become a one-day officiant (http://entertainment.time.com/2013/03/19/sir-ian-mckellen-to-marry-sir-patrick-stewart-no-not-like-that/). Although no official reason was given as to why Stewart chose McKellen to officiate his wedding, Wedding.com experts speculate that the pair are probably very close to one another. Although the typical tradition of having a religious figure perform a legally binding ceremony is no longer a necessity in this day in age, many couples are still choosing to have a professional wedding officiant perform the ceremony.
"Many couples want to keep their wedding close-knit and personal, and sometimes, that means having an ordained friend or family member officiate the wedding, even if their ordainment was done via the internet," says Brett Reynolds, CEO of Wedding.com. "Celebrities often prefer very personal and private weddings, and chances are Patrick Stewart is no different."
For more information about Wedding.com, please visit http://www.wedding.com.
About Wedding.com
Wedding.com is an innovative new website that connects engaged couples planning their wedding with wedding vendors looking to grow their business. Wedding.com contacts vendors for couples, giving them the power to compare and negotiate while ultimately saving time and money. With 12,000 couples and 22,000 vendors currently using the website, 105,000 proposals have already been sent since their inception. Vendors range in services from wedding planners, photographers, florists, and DJs to custom invitations, party favors, and much more. For additional information about the company and its services, please visit http://www.wedding.com.