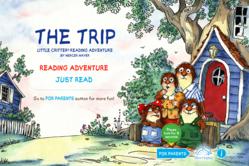 All of us at Silver Dolphin Books are very enthusiastic about the launch of our first children's apps in conjunction with one of the world's most talented children's authors and illustrators, Mercer Mayer.
San Diego, CA (PRWEB) March 21, 2013
Author Mercer Mayer's beloved character Little Critter stars in a new fun-filled interactive escapade for young children, The Trip – Little Critter Reading Adventure. The new app is supported by the simultaneous release of The Trip – Little Critter GamePak. Both apps launched today for the iOS, Android, Nook and Kindle platforms from Silver Dolphin Books, a multiple award-winning publisher in the field of educational, novelty and activity books for children and young readers.
The Trip – Little Critter Reading Adventure app ($3.99) is based on Mercer Mayer's classic book of the same name and features his incredible original artwork. A free LITE version of this app is also currently available for the Android, Nook and Kindle platforms, with an iOS version to debut soon. The complementary app, The Trip - Little Critter GamePak ($3.99), includes over 50 fun and engaging activities featuring Little Critter, and introduces the Company's new Digistix—interactive, animated stickers with fun sound effects. Appy Award-winner John R. Sansevere (Where is My Frog) is the producer of both apps.
The Trip – Little Critter Reading Adventure invites children to travel along with Little Critter and his family on an action-packed road trip. Kids can help Little Critter choose the route the family will take to explore the countryside, the city, the beach and more; fix the car when it breaks down; move a horse stuck in the middle of the road; feed the seagulls; and even find time to grab a hot dog. All this while playing lots of games with Little Sister along the way to pass the time! Recommended for ages three to seven, the app emphasizes basic pre-school and early elementary curriculum and incorporates an inventory collection and selection feature designed to build critical problem-solving skills; alphabet flashcards hidden on every screen teach and reinforce letter recognition; and successful completion of six puzzles—including sequence and matching games—unlock six collectible gems used to play an arcade-style game. Other features include text highlighting, visual interactive item clues and professional audio narration and dramatization, which all help to keep non-readers engaged with the story.
"All of us at Silver Dolphin Books are very enthusiastic about the launch of our first children's apps in conjunction with one of the world's most talented children's authors and illustrators, Mercer Mayer," said Jon I. Rosenberg, VP and Publisher of Silver Dolphin Books. "The beloved characters, gentle humor, and solid family values emphasized in Mercer's Little Critter book series remain the same, and now kids can extend that book experience by engaging with the characters and story in ways that they could not have before."
"Silver Dolphin Books and producer John Sansevere have delivered an amazing extension of my original book," added Mercer Mayer. "The storytelling and interactivity have exceeded my expectations, and the level of engagement between Little Critter and today's young readers is all very exciting."
Available simultaneously is The Trip – Little Critter GamePak, an extension of the Reading Adventure app. Divided into two sections, the GamePak includes five game themes including Dot-to-Dot, Mazes, Matching Pictures and Words and How Many? In the Digistix section, over 175 digital stickers are available across five game themes inspiring the imagination and fostering creativity. In two special beach and camp activities, Digistix stickers that are tapped, dragged and dropped into the scenes react differently depending on where they are placed, enabling kids to create a new adventure every time. Featuring helpful words of encouragement from Little Critter throughout, The Trip – Little Critter GamePak, is regularly priced at $3.99, but will be available for the first 30 days after release for $2.99.
The Trip – Little Critter Reading Adventure and The Trip – Little Critter GamePak are now available in iTunes, Barnes & Noble, Amazon, and Google Play.
About Mercer Mayer and Little Critter
Mercer Mayer is one of the most prolific, talented, beloved and bestselling children's book authors and illustrators of all time. He began writing and illustrating children's books in 1966, and since that time has published over 300 titles. Since Little Critter's debut in 1975, young readers have identified with the character's thoughts, feelings, ideas and inspirations as he navigates the challenges of childhood. With Little Critter, children learn that it's all right to try and fail and try again until you get it right and uncover the biggest secret of all—it's OK to have fun and laugh in the process! Little Critter has been featured in more than 200 books, which have sold over 150 million copies worldwide.
About John R. Sansevere
An independent digital media developer, John R. Sansevere is a successful producer, creative director, writer and designer of original intellectual properties for all aspects of entertainment, including games, publishing and television. His clients have included NBC, ABC, CBS, Disney, Nelvana, Cookie Jar, Warner Bros., MTV, HarperCollins/Fox, Random House, Barnes & Noble, Atari, Mindscape and others. In 2012, Little Critter: Where Is My Frog, developed by Sansevere's Dancing Penguins company, won the Appy Award for "Best App for Games: Educational/Family/Kids". The app was also featured as a "New and Noteworthy" iPad app upon launch and soon rose to #22 among top paid iPad apps.
About Silver Dolphin Books
Silver Dolphin Books, an imprint of Baker & Taylor Publishing Group, publishes activity, novelty, and educational nonfiction books for preschoolers to 12-year-olds. Silver Dolphin Books are designed to enlighten and entertain children of all ages. Highly interactive formats, such as the Uncover Its (a patented format featuring a plastic model inside the book), or Sounds of the Wild (pop-ups with atmospheric sound), provide age-appropriate material that appeals to young children and earns parental approval. With amazing novelties and interactive elements, such as pop-ups, sound, and more, Silver Dolphin Books give kids the tools to learn while having fun. Silver Dolphin Books has acquired non-exclusive app publishing rights for iconic children's brands Little Critter and Richard Scarry. The company plans to release a total of six new innovative apps this year for Little Critter, Richard Scarry and an all-new IP, Astro B-1.
Like Silver Dolphin Books on Facebook.
Follow Silver Dolphin Books on Twitter.
For media inquiries including high-res images or interview requests, please contact:
Three.Sixty Marketing + Communications
Carol Holdsworth Michelle Orsi
805.252.1848 310.418.6430
carol@360-comm.com/ michelle@360-comm.com
® Mercer Mayer's Little Critter and Mercer Mayer's Little Critter logo are registered trademarks of Orchard House Licensing Company