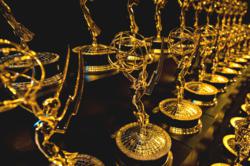 washington DC (PRWEB) March 21, 2013
NATAS will work with the museum to identify actors, writers, talk show hosts, game show hosts, journalists, producers, directors and others who have influenced America's cultural identity and extended that culture to global audiences. The partnership will help the museum expand its capacity to tell the unique story of daytime television and the Daytime Emmys® Awards.
The entertainment collections at the museum preserve dazzling artifacts that present the history of American life through the brightly-colored perspectives of theater, film, radio, television, puppetry, circuses, carnivals, and popular music. With more than 7,000 objects, the entertainment collections range in content from costumes to marionettes, theatrical scripts to commercial recordings, sheet music to carousel figures.
Objects donated to the Smithsonian will complement the museum's existing entertainment collections that include Dorothy's Ruby Slippers, Kermit the Frog, Mr. Roger's sweater, animation cells from the Flintstones, Bugs Bunny and Daffy Duck, a Howdy Doody marionette, Archie Bunker's chair and many others.
The museum is currently renovating the west wing of its building to house new galleries on American business, democracy and culture as well as a Hall of Music for live performances. For more information, visit http://americanhistory.si.edu. The museum is located at 14th Street and Constitution Avenue N.W., and is open daily from 10 a.m. to 5:30 p.m. (closed Dec. 25). Admission is free.