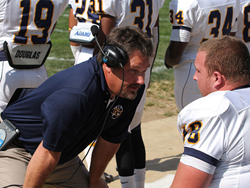 We want to maximize a safe return to play for our students.
Ottawa, ON (PRWEB) March 21, 2013
Graceland University (Lamoni, Iowa) will be using the Shockbox Helmet Impact Sensor in their team football helmets this year as part of an initiative to reduce the risk of concussions in student athletes. Head Football Athletic Trainer, Erin Rae Lundy ATC and a prior graduate of Graceland, will be monitoring the head impacts that the players receive in games and practices in an effort to be proactive in the safety of their students.
Head Football Coach Jeff Douglas, a 20 year veteran of college football coaching said, "The Shockbox Technology is crucial in helping us know when our players require sideline assessment, and it gives our training staff the information they need to treat our players. We want to maximize a safe return to play for our students." The sensor provides the team's medical staff with an immediate reference point to begin preventive measures in the form of coaching correction, reduced exposure levels, game time recovery and potential concussion assessment.
With the release of the Shockbox Helmet Impact Sensor for concussion management, this device is being used across North America in football, hockey, lacrosse and snow sports by parents, coaches and trainers who want to stay current in the technology available for the safety of players.
Danny Crossman, CEO and founder of Impakt Protective, helped develop the US Military helmet standard and has been included in various round table discussions in Canada and the United States as a subject matter expert. "We feel strongly about being part of the solution with this very serious issue of concussion in sports," says Crossman, "and working with forward thinking organizations like Graceland University, coupled with extensive research, has been the key to our development and success and our mission to support concussion management programs everywhere so players can continue to enjoy the sport they love."
Also watch the video movie trailer to learn more about a documentary film called The Smartest Team by MomsTeam.com, the most trusted sporting and concussion resource for parents, where they follow another high school football team in rural Oklahoma over the course of a season and helps football programs nationwide become smarter and play safer.
The documentary provides a blueprint for a concussion management program featuring, not only advice from some of the nation's leading experts, but the latest research and cutting-edge tests, products and equipment designed to reduce concussion risk, identify concussions, and assist in return-to-play decision-making. This documentary is due to release next week, stay tuned.
About Graceland University
Graceland has been ranked 'first tier' in the U.S. News & World Report's America's "Best Colleges" in 2011, 2012 and 2013. Graceland falls in the "Private University" category, "Midwest Region." In 2012, Graceland was ranked 91 and in the 2013 report Graceland has been ranked 88. The report standings cite Graceland's small class sizes, with 72 percent of classes containing 20 or fewer students, financial aid services, and the university's "selective" admissions process in its rankings. Graceland has also been recognized by the Princeton Review as a top school in the Midwest. The school's football team, the Yellowjackets are members of the Heart of America Athletic Conference (HAAC) while also under the national governing body of the National Association of Intercollegiate Athletics (NAIA).
Graceland University was established in 1895 as a non-sectarian liberal arts institution of higher learning. It operates campuses in Lamoni, Iowa and Independence, Missouri. Graceland offers degree completion programs at three other sites: the Kirkwood Community College campus in Cedar Rapids, Iowa; the Indian Hills Community College campus in Centerville, Iowa; and the North Central Missouri College campus in Trenton, Missouri.
Students from nearly every state and 40 nations choose from more than 50 academic majors and programs at Graceland. For information about Graceland, go to http://www.graceland.edu.
About Impakt Protective Inc.
Incorporated in 2010, Impakt is a privately owned high‐tech sensor company located in Ottawa, Canada and the creation of Danny Crossman and Scott Clark. Danny Crossman, a former Army bomb disposal officer and Business Development executive, led the development of numerous life‐saving technologies such as the bomb suit, featured in the movie The Hurt Locker; Advanced Combat Helmet impact pads; roadside bomb jammers used by the USMC and recently the Helmet Impact Sensors used by US Army and USMC to monitor mTBI in deployed soldiers and marines. Scott Clark is an active hockey player, coach as well as hockey Dad, and a former software high tech executive with experience in Program Management, Business Intelligence and Operations.