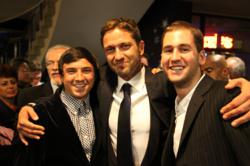 Media Alert!
Venice California (PRWEB) March 21, 2013
The folks at Millennium Films stumbled upon Ethan Mark and Dylan Luke's video. Seeing what a good job they were doing advertising their new film, Avi Lerner issued a special invitation to the aspiring filmmakers. Millennium Films invited Dylan and Ethan to the Los Angeles Premiere of Olympus Has Fallen on Monday, March 18th where they met and mingled with the film's stars Gerard Butler, Aaron Eckhart, Morgan Freeman, Angela Bassett, Robert Forster, Cole Hauser, Finley Jacobson, Ashley Judd, Melissa Leo, Dylan McDermott, Radha Mitchell, Rick Yune and Director Antoine Fuqua.
In the interest of public safety, someone had to keep these kids off the street!
Olympus Has Fallen opens in theaters March 22nd nationwide.