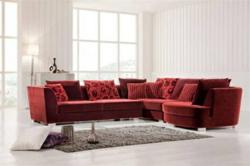 "A great sectional or sofa set is a staple for any household. DefySupply aims to provide the most modern furniture, including our spring sofa line, at realistic prices," says DefySupply CEO Brent Gensler
Minneapolis, MN (PRWEB) March 21, 2013
DefySupply is pleased to announce the latest spring furniture arrivals. The leading online furniture store has received a new, contemporary sofa collection. Ideal for any décor, this versatile collection includes sofas in a wide range of styles, materials and colors.
The latest additions reflect popular furniture styles for spring 2013, such as bold colors and unconventional designs. DefySupply blends both functionality and style in this new collection, featuring everything from adjustable leather sofas and easy-to-clean fabric sofas.
All sofas from the new spring line are built to order and can be customized in a variety of colors. Some featured leather and fabric sofas include the Coteppo Designer Sectional Sofa and the Persa Signature Leather Sofa Set. Like all DefySupply products, these sofas are priced affordably for all budgets, providing customers with an unparalleled value.
"A great sectional or sofa set is a staple for any household. DefySupply aims to provide the most modern furniture, including our spring sofa line, at realistic prices," says DefySupply CEO Brent Gensler.
In addition to the new sofa line, DefySupply has received a new selection of patio furniture in anticipation for warmer weather. The latest patio furniture includes rattan patio sets, chaise lounges and dining sets. These new collections join DefySupply's catalog of more than 4,000 modern furniture items.
The latest spring designs can be purchased at http://defysupply.com.
About DefySupply
DefySupply, headquartered in Minneapolis, is a bridge allowing everyday consumers to buy directly from the world's top manufacturers at a fraction of the cost. Check out DefySupply reviews to read what customers are saying and follow DefySupply on Twitter for daily updates.