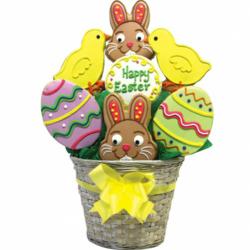 Islip, NY (PRWEB) March 21, 2013
The best Easter basket ideas stir up in the minds of many parents on Easter. Looking for ways to surprise their children with wonderful gifts, they often come up with amazing ideas but fail to convert them to reality due to the lack of material. This is exactly why many parents end up gifting the same old generic baskets to their loved young ones. Converting amazingly creative ideas to a delicious reality, the cookie experts, Clever Cookie launched an Easter campaign a few days back showcasing exquisite Easter cookie arrangements at very affordable costs. With the Holiday just around the corner, the offer is in full bloom.
There are an immense number of adults as well as teens that wish to make things different on Easter. Going against the norms of simple, dull, gift-giving, these people used to look up ways on giving better gifts to people they loved. Sighting this shift in trend, Clever Cookie surfaced on the internet scenario with something much more to offer than just simple delicious cookies. The arrangements and the deals that were offered by the website surprised many and led to an innovation in the way people gave gifts on holidays and birthdays. The same trend has been promoted by the company this Easter with exquisite Easter cookie arrangements and baskets that are sure to cause a large number of smiles.
The litany of Easter delicacies includes special Easter Bunny Cookie Arrangement, an Easter Rainbow Platter along with different Easter Tulips arrangement. All of these are composed of specially baked, delicious wholesome cookies, all set and ready to be gifted.
Keeping in mind the Holiday mood, the company has also offered various giveaways including a chance to win a free cookie arrangement, just by visiting Clever Cookie's Facebook page. Also, for anyone that spends over $100 with the company, they will be given a chance to design their very own Cookie Basket!
To visit Clever Cookie's website, click http://www.CleverCookie.com. For the Facebook page, visit https://www.facebook.com/pages/Clever-Cookie/472426086112131
About Clever Cookie:
Clever Cookie was founded in 1991 by sibling entrepreneurial spirits Lisa and David, who determined that cookies should be more than sweet treats—but creative confections that delight cookie-lovers of all ages! The company has been showcased numerous times on both print and electronic media and continues to gain popularity with an ever increasing clientele. To learn more, visit Clever Cookie's main site at http://www.clevercookie.com/
Contact:
Howard Saffeir
http://www.clevercookie.com/
info(at)clevercookie(dot)com
1-800-237-8443