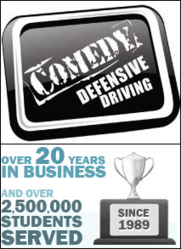 "We've found great success in our courses that apply humor to a topic that people don't typically enjoy, driving safety," said a representative
(PRWEB) March 21, 2013
Workplace safety, particularly relating to vehicle operation, remains a top priority across a range of industries. Comedy Defensive Driving, an established leader in online and classroom-based driver safety training, has taken a unique approach to traditional instruction by incorporating humor into a traditionally dreaded subject. The company uses specially trained professional comedians as instructors to make content more engaging and easy to absorb, promoting more effective learning and employee performance.
A representative from the company explained the new offers for corporations. "We've found great success in our courses that apply humor to a topic that people don't typically enjoy, driving safety. By applying this approach to corporate and government training, we can educate employees in groups to meet the vehicle safety needs of larger organizations."
Core Benefits of Comedy Defensive Driving, Driver Safety Training Program includes: employee protection, risk management, reduced insurance premiums, asset preservation and improved safety records.
About Comedy Defensive Driving – Based in Irving, Texas, Comedy Defensive Driving has been providing driver safety courses since 1989 in online and classroom-based formats. The company's award-winning online defensive driving course offers a simple, unique and entertaining way to complete a driver safety course. Comedy Defensive Driving instructors use humor to make a six-hour course far more fun and interactive than traditional approaches to traffic school. Comedy Defensive Driving offers driver safety courses for corporations, government agencies, and fleet managers that can be incorporated as a component of existing employee safety programs and. For additional information please visit http://www.comedydefensivedriving.com/