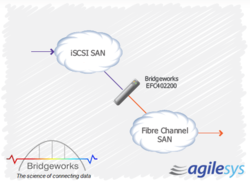 The world's first 40Gb iSCSI-to-FC bridge
Christchurch, UK (PRWEB) March 25, 2013
Bridgeworks, the world's leading protocols, interfaces and topologies bridge manufacturer, today announced the world's first 40Gb iSCSI-to-Fibre Channel (FC) protocol bridge, the Oresund EFC402200. Not content to rest on its laurels after launching the world's first 40Gb iSCSI-to-SAS bridge last month, Bridgeworks has added to its Oresund product family with this high-performance protocol bridge that allows organizations to connect iSCSI-based servers to FC-enabled peripherals such as disk arrays, tape drives and tape libraries removing the need for separate peripherals in iSCSI and Fibre Channels SANs as it allows any FC device to be accessed from the iSCSI SAN as though it was part of it. With this bridge users can get more out of their investments in peripherals and, more importantly, successfully manage the explosion of big data that we are seeing across all organizations.
The EFC402200 is housed in an industry-standard 1U 19″ rack mount enclosure with integrated power supplies and cooling for space and cost savings; connectivity to the IP network is via two auto-sensing 40Gb Ethernet ports, whilst the Fibre Channel network is connected via two 16Gb auto-sensing FC ports. The plug and play connectivity and web-based GUI make this Oresund bridge easy to install and operate in just a few minutes. The simple, elegant design, together with its high performance, make for increased choice and flexibility and ultimately easier infrastructure upgrades and faster migrations to new generation devices; they also allow storage administrators to extract the full performance potential of their peripherals, while protecting the investment in their infrastructures.
"In the current climate where cost and performance have become mission critical for many companies, and the explosion of Big Data requires a new approach to information management, the ability to combine different protocols in the same storage network can make a significant difference to how an organization's IT infrastructure can support the business. To get additional, unexpected return from existing investments in costly disk and tape peripherals can help IT administrators reallocate budget and other resources to drive up their efficiency,' said David Trossell, CEO of Bridgeworks. 'The Bridgeworks Oresund 40Gb iSCSI-to-FC bridge further demonstrates our leadership in the bridging market. Based on analysts' forecasts and discussions with our partners and customers we expect that the adoption of 40Gb iSCSI into the enterprise will be rapid and widespread in 2013. The emerging 40Gb marketplace is a further catalyst for the rapidly expanding "virtualized" environments. 2011-12 saw a rapid expansion in the use of VMWARE and Microsoft's Hyper-V. Today's Oresund launch will help to increase the rapid adoption of virtualization within data centers, and it consolidates Bridgeworks' continued commitment to developing unique and innovative solutions for connecting the latest advances in storage protocols with legacy storage devices."
About Bridgeworks
With a 30-year history of technical leadership, Bridgeworks is a long-established innovator in connectivity solutions for the data storage market that are designed, manufactured and marketed for both end users and OEMs. Bridgeworks uses its wealth of experience in this field to solve one of the long-standing issues of how to transmit data over vast distances across both private and public networks using TCP/IP with little or no impact on performance.
About Agilesys, Inc.
Agilesys is an innovation services firm with specialized focus on commercializing, distributing, and servicing high-tech products. Our agile approach and diverse talent pool allows for rapid, realistic results that drive business performance for global clients. Agilesys is the authorized distributor for the Bridgeworks products in North and South America. With extensive experience ranging from start-up companies through the Fortune 500, Agilesys executives and teams operationalize the critical factors that drive successful commercial implementation.
For further information please contact Agilesys: 1-855-5AGILESYS or send an email to info(at)agilesys(dot)com