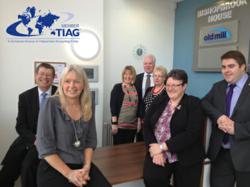 Service is at the heart of everything we do and providing staff with the right working environment is vitally important; in this respect, the new Wells office is a massive step forward for us.
Wells, England (PRWEB) March 21, 2013
West Country accountants and financial planners and member of TIAG (The International Accounting Group), Old Mill has relocated its Shepton Mallet office to the Cathedral Park business complex in neighbouring Wells.
This week, 80 staff moved from the Old Mill on Park Road to Bishopbrook House; a brand new carbon friendly building commissioned by Old Mill and funded through the Old Mill Partners' pension scheme.
The two-storey office has 10,000 square foot of office space on the first floor for up to 100 staff while the ground floor has a reception, board room, conference rooms and around 7,000 square foot of office space for let.
Old Mill is one of the West Country's fastest growing accountancy firms. Originally based in Shepton Mallet and Yeovil, over the past six years it has opened three new offices in Exeter, Melksham and Dorchester and more than doubled in size, now employing more than 250 people.
The Yeovil office relocated in November 2012, while a new office for Shepton Mallet has been on the cards for many years, as finance Partner Mike Butler, who has overseen the development explains:
"We started to outgrow the Shepton office, which was formerly a 19th century mill, around six years ago and started to look for a new office in the town. We wanted an open plan design and plenty of room for expansion but after years of searching, we couldn't find anything suitable, so decided to embark on a project to build something that would fit our needs.
"We chose to build at Cathedral Park because once completed, it will be one of the key business destinations in the region. Plus it is set in a wonderful rural location, has great access and parking and utilises green and sustainable building solutions, which was important to us."
Mike says although Old Mill is sad to be leaving Shepton after more than 80 years in the town, the move brings with it lots of new opportunities: "Shepton has been at the very heart of our business ever since it was founded in the 1930s and we will be retaining strong links in the town, but by moving to a new site, we are able to develop something that is just right for our firm's current needs."
Bruce Lockhart, Partner and head of the new Wells office, says he is excited about the move and the positive affect it will have on both staff and clients.
"Service is at the heart of everything we do and providing staff with the right working environment is vitally important; in this respect, the new Wells office is a massive step forward for us," he said.
He concludes: "The open plan design will allow us to seat teams in a manner that will encourage our accountants, tax planners, financial planners, pension specialists to work in an even more integrated way and this will enable us to deliver even better service levels to our clients through creative and innovative thinking generated naturally by the way in which we operate on a day to day basis."
ABOUT OLD MILL ACCOUNTANTS & FINANCIAL ADVISORS:
Old Mill is accounting and financial planning choice of over 5,000 clients. The firm has 200 qualified and motivated staff trained to the highest professional standards who are able to provide timely service combined with innovative ideas and proactive advice. Old Mill has five offices across the West Country in Dorchester, Exeter, Melksham, Wells and Yeovil. For more information about Old Mill, visit http://www.oldmillgroup.co.uk.
ABOUT TIAG:
Founded in 2003, TIAG is an international alliance of high quality, independent accounting firms. Combined with TAGLaw®, an alliance of independent law firms, they provide professional accounting, financial and legal services on a worldwide scale. With approximately 12,500 professionals in over 260 member firms, and more than 450 offices in over 90 countries, the two alliances serve tens of thousands of clients from all industry and commercial sectors. For more information about TIAG, visit http://www.TIAGnet.com.