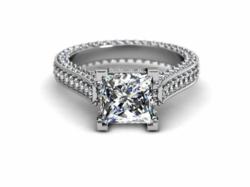 Port Washington, NY (PRWEB) March 22, 2013
Earl Grenfell's local jewelry store Spellbound Fine Jewelry and Watch Repair has attracted immense attention for a many years now. An expert in diamond jewelry, Earl is also well known for his knowledge related to every aspect of diamonds. From origin, to types, and colors to prices, Earl Grenfell located in Port Washington Village, is visited by diamond lovers from across the world seeking his knowledge and understanding of all custom made jewelry. Answering the requests of his clients, the expert has discussed the different types of diamond jewelry with respect to the color that they entail. The article was published on his website this Monday.
The expert begins his article by talking about the various types and kinds of diamonds that exist in the world today. Even though an average person doesn't carry the budget to own such jewelry, but thousands still carry fascination and love for this wonder of creation. On the other hand, people who are passionate about this delicacy can go to any lengths to attain some of the best pieces that exist. In this due course, people often come across various different colors of diamond and are puzzled over which color to choose.
Diamonds are graded with different alphabets that portray the purity and the value of a particular piece. There are a lot of different colors that can be seen in the markets ranging from orange to grey and even red to black. Diamonds usually become colored once impurity gets to them. A diamond that is purely colorless carries most value and is regarded to be of the best kind. Diamonds that carry minor shades are of more value than ones that are more brightly colored. The impurity that poisons the diamond is mostly nitrogen that alters the structure, changing the chemical composition and hence inducing color.
To read the full article "Diamond Jewelry and Its Colors" – By Earl Grenfell, visit: http://earlgrenfell.com/diamond-jewellery-and-its-colors-by-earl-grenfel/
Stay up to date with the latest pieces of fine custom made jewelry on our facebook page: http://www.facebook.com/pages/Spellbound-Fine-Jewelry-and-Watch-Repair/115295938561142
About Earl Grenfell:
Earn Grenfell is a renowned Diamond Jewelry expert with over 25 years of accumulated experience. Based in Port Washington, NY, Earl has been a pioneer in high end jewelry designing and manufacturing and is the creator of the famous company Spellbound Fine Jewelry and Watch Repair. Graduating from the Fashion Institute of Technology in Jewelry Design back in 1985, Earl has dominated the Long Island, NY Diamond Jewelry market ever since.
Contact:
Earl Grenfell
290 Main Street Port
Washington, NY 11050
516-767-7700
info(at)earlgrenfell(dot)com
http://www.EarlGrenfell.com