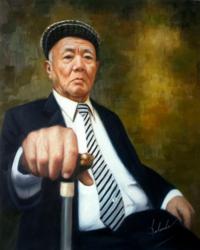 North Miami Beach, FL (PRWEB) March 21, 2013
Paint Your Life has taken its online art and canvas products to the next level with the availability of customized memorial portraits. Unlike other online art sites that only specialize in photo to canvas prints, Paint Your Life has become a leader in the market by providing high quality, personalized paintings, in addition to extensive photo services.
The memorial portrait program is simple for customers. They simply submit a favorite photo of a loved one, and Paint Your Life recreates the image in a stunning painting, created by a talented and experienced artist. Customers report that the re-creations of their photos are so realistic that it's as if the loved one featured in the painting was brought back to life.
The design and artist team at Paint Your Life can even create a full color portrait from a black and white photo, when customers submit a brief description of the coloring of the subject.
In addition to providing customers with a long-lasting and visually gorgeous piece of art, Paint Your Life has also begun partnering with funeral homes in Miami area to provide memorial portrait services.
Oil portraits are the most common medium for Paint Your Life memorial portraits, but they come in a variety of other mediums, including watercolor, pastel and acrylic.
"This is an amazing way for our customers to remember the important people in their lives in a unique way, that might not otherwise be available, particularly in the price point we offer," said a spokesperson for Paint Your Life. "When you think of online photo and canvas-based websites, you never imagine this level of detail and expertise, and that's what's set us apart as an industry leader."
All memorial portraits produced by Paint Your Life are created by highly skilled artists. In addition to memorial portraits, the site is also a leading retailer of a wide array of unique, personalized canvas art. Items offered by the company include creative photo-to-pop art designs, high quality portrait paintings and great photo to canvas options, which are perfect as gifts for any occasion.
About Paint Your Life
Paint Your Life was founded in 2006, and features one of the world's largest selections of canvas and art products. All products are designed by a team of professional graphic designers, and each product is created with the utmost quality and attention to detail. The site, which is a leader in the online art industry, has seen tremendous success because of customer and word-of-mouth referrals, and continues to expand its products to cater to a wide variety of needs.