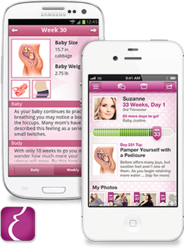 We are thrilled to have been selected as the Appy Award Winner for Best Family/Parenting App and thank the judges for selecting BabyBump from among the pool of impressive finalists
San Francisco, CA (PRWEB) March 21, 2013
Alt12 Apps, the world's largest mobile network for women, is pleased to announce its popular premium pregnancy app, BabyBump®, has been named Best Family and Parenting App by MediaPost's annual Appy Awards.
The Appy Awards are dedicated to acknowledging creativity and excellence in app design and honor extraordinary applications on all platforms: mobile, social and web-based. Categories range from Games and News, to Health and Fitness, Social Networking, Photography and more. The winners were announced last week at the SXSW festival in Austin, Texas.
"We are thrilled to have been selected as the Appy Award Winner for Best Family/Parenting App and thank the judges for selecting BabyBump from among the pool of impressive finalists," said Jennifer Wong, CEO & Co-Founder of Alt12Apps. "As a mobile-first company and developers of women's health apps, the content, design and functionality of our apps are of the utmost importance to us. Winning this award validates all the hard work we put in for our users."
BabyBump is a free comprehensive pregnancy app and social network for expecting parents and with more than 10 million visits a month, is the most active mobile pregnancy app in the world. Features include wide-spread tracking capabilities, a daily journal to track moods, cravings, energy levels and other milestones, a social network to connect and share advice with other moms, and an e-commerce shop to discover the best pregnancy products that have been expertly curated by Alt12's editorial team of parents.
The free app is available in the Apple App Store and on Google Play. To download BabyBump or any of Alt12's other apps visit their website at http://www.alt12.com.
About Alt12 Apps
Alt12 Apps is the leading developer of social health apps, with more than 8.5 million downloads and 1.5 million monthly active users across its product suite. Utilizing Sliprose™, a proprietary framework, the company delivers award-winning apps with rich, native experiences, a mobile community, compelling content and beautiful design. Alt12 launched in 2009 with BabyBump®
the first pregnancy social network app and the most popular premium pregnancy mobile app in the world, and followed with PinkPad®, the first mobile social network for women's health with the largest and most active trying-to-conceive mobile community of women. Its newest offering, Kidfolio®, is a social network and digital scrapbook for parents. Alt12 Apps is headquartered in San Francisco, California. http://www.alt12.com