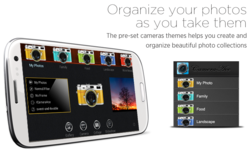 CameraAce's comprehensive photo organization and editing tools are essential for any Android user.
Bellevue, WA (PRWEB) March 25, 2013
TecAce Software Ltd. has officially launched the latest version of their powerful photo editing and organizing, CameraAce v2.0. The latest update builds upon the fundamental principal that photography should be fun and easy. Users shouldn't have to worry about constantly adding filters and frames to every photo, and more importantly, it should be easy to keep track of these photos. With CameraAce version 2.0, doing all these things is much easier with the newly added Camera Workbench UI and Photography Themes.
The Workbench UI consists of up to 10 different 'cameras,' each with its own unique Photography Theme—a patent pending, image batch processing concept and technology. The user can edit each camera's Photography Theme to suit their needs. For example if a user enjoys taking photos of what they eat, they can create a camera titled "Cuisine," that adds a HDR filter, a Polaroid frame, and saves to a folder called "Food." Now whenever a user want to capture a memory of a beautiful dish, they can simply fire up the 'Food camera' and the preset photography theme will be applied. No need to individually edit photos and move them to an appropriate folder.
In addition to the innovative Camera Workbench interface, users can now enjoy their photo collections with music of their choosing. CameraAce allows users to bring their Camera galleries to life with slideshow mode, which beautifully displays photo galleries with a soundtrack that can be edited in each Photography Theme.
CameraAce is now available for free on the Google Play Market
About TecAce Software
TecAce is a leading smartphone solutions provider on the Windows Phone, iOS, Android, and LiMo platforms. TecAce's global offices are located in the USA, Korea and Canada. TecAce has delivered their mobile expertise to numerous silicon vendors such as Microsoft, as well as carriers and OEMs, since 2000.
TecAce specializes in adding creative and innovative UIs/UXs to their applications in order to give users products that are both fun and convenient.