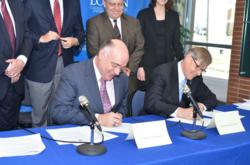 "We will help Logan attract the high quality, well-trained students they expect and this exciting new partnership will offer Westminster the opportunity to attract students who might not have otherwise considered us," said Westminster President Forsythe.
St. Louis, MO (PRWEB) March 21, 2013
The presidents of Westminster College in Fulton, Mo. and Logan College of Chiropractic/University Programs have signed a 3+3 articulation partnership agreement between the two schools. George B. Forsythe of Westminster and J. Clay McDonald, DC, MBA, JD, of Logan signed the formal agreement at a special event on Logan's Chesterfield (Mo.) campus on March 19.
The 3+3 program enables qualified students to earn both a Bachelor of Arts degree from Westminster and a Doctor of Chiropractic degree in just six years, one year less than a traditional academic study time required by the Doctor of Chiropractic degree program. Under this program, a student must successfully complete 93 credit hours at Westminster with at least a 2.50 grade point average in order to be able to enroll at Logan. By the end of their first year in the Doctor of Chiropractic program when they have completed 33 credit hours of work at Logan with at least a 2.00 grade point average, these students will have earned the basic science credit hours needed to complete their bachelor's degree from Westminster as well as have satisfied their basic science requirements during the first year of graduate studies at Logan leading to the Doctor of Chiropractic degree.
Employment of chiropractors is expected to increase by 28 percent over this decade, faster than the average for all occupations. Interest in the field is believed to be high because of the nonsurgical methods of treatment used in chiropractic care.
Since 1935, Logan College of Chiropractic/University Programs has been preparing students to enter the health care marketplace to become successful Doctors of Chiropractic.
Founded in 1851, Westminster College is one of the top liberal arts colleges in America, according to all major educational ranking firms including U.S.News & World Report, Forbes magazine, The Princeton Review and Washington Monthly. This selective college for men and women operates on two campuses, one an 86-acre residential campus in Fulton, Mo., and a second Southwestern urban campus in the vibrant downtown of Mesa, Ariz. Westminster is a challenging academic environment where students are educated to lead and inspired to achieve.
To learn more about Westminster College, visit http://www.westminster-mo.edu. For more information about Logan College of Chiropractic/University Programs, visit http://www.logan.edu.