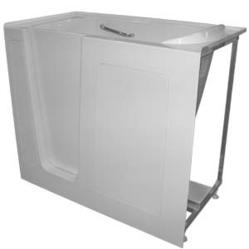 We have dropped our prices low for this special Springtime Sales Event on walk in bathtubs and handicap shower stalls.
New York, NY (PRWEB) March 21, 2013
Elderly bathtubs provider Aging Safely announces a Springtime Sales Event on walk in bathtubs and roll in shower stalls. According to the company, this promotion extends to the general public and will offer shoppers discounts until the beginning of April 2013 on all senior bathtubs, handicap shower systems and safety grab bars.
Senior bathtubs come in many shapes and sizes and the quality level can vary from one manufacturer to the next. Oftentimes it is difficult for the general public to know the important differences between the different step in bathtub products on the market.
Aging Safely offers visitors a wide array of quality walk in bathtubs and handicap shower systems designed to make bathing accessible for all. Several of Aging Safely's walk in tubs are manufactured in the United States and have 3rd party certifications of quality standards being met.
Senior citizens and those with mobility restrictions can be especially prone to have a dangerous fall in the bathroom or bathtub. These specialized bathing products can potentially add independence and security to the bathroom for someone who may have a true fear of falling in the bathtub.
It is also very common to find these types of bathing appliances in hospitals, nursing homes, assisted living facilities and care centers for the elderly. Aging Safely does provide shower parts, walk in bathtubs and handicap shower stalls to commercial organizations such as nursing homes; however they cater to homeowners wanting to make improvements to their bathrooms.
According to Aging Safely this Springtime Sales Event will be an opportunity for shoppers to find some of this year's best prices on quality walk in tubs and handicap shower stalls. The company will also be offering incentives and savings such as, no cost hydrotherapy upgrades and free shipping to the lower 48 states for supply only orders on walk in bathtubs.
For those who have already been considering purchasing a walk in tub or roll in shower, Aging Safely is great place to look for tremendous savings without compromising on the much needed quality. All of Aging Safely's senior bathtubs come standard with a lifetime warranty on the door seal against leaking. In addition, several walk in tubs offered by Aging Safely come with a five year parts warranty as well.
Having confidence in the company and the step in tub product is the most important part. Aging Safely has representatives that are available for no obligation consultations to help customers select the proper walk in tub or handicap shower system for their unique needs.
Contact Information:
Zach Wennstedt
1-888-779-BATH(2284)
www(dot)AgingSafelyBaths(dot)com